An Editor of Bangladesh's First LGBT Magazine Was Just Hacked to Death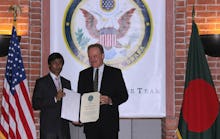 An editor of Bangladesh's first LGBT publication, Roopbaan, was hacked to death in the capital, Dhaka, on Monday, according to reports.
Thirty-five-year-old Xulhaz Mannan and his friend Tanay Mojumdar were murdered in an apartment by a group of people purporting to deliver a package on behalf of a courier service, the Dhaka Tribune and the Guardian reported.
"Unidentified attackers entered an apartment at Kalabagan and hacked two people to death. Another person was injured," Maruf Hossain Sorder, a spokesman for Dhaka Metropolitan Police, told Agence France-Presse.
Mannan worked for both Roopbaan and the Bangladesh outpost of USAid, the United States' government's humanitarian and development agency. 
"I am devastated by the brutal murder of Xulhaz Mannan and another young Bangladeshi," U.S. Ambassador Marcia Bernicat said, BBC reported. "We abhor this senseless act of violence and urge the government of Bangladesh in the strongest terms to apprehend the criminals behind these murders."
In recent months, activists and thought leaders have been increasingly targeted in Bangladesh. On Saturday, according to the Independent, a professor was hacked to death by the Islamic State group, also known as ISIS, and on April 6, suspected extremists killed an atheist, secular activist in similar fashion.
April 25, 2016, 3:40 p.m. Eastern: This story has been updated.