Obama Administration Releases Bold Plan for Allowing Prisoners to Reenter Society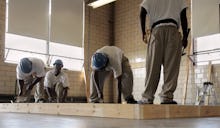 Happy National Reentry Week! 
It doesn't exactly roll off the tongue, but it's what the U.S. Department of Justice named the week of April 24-30 this year, in an attempt to highlight its push for improvements to the way prisons prepare inmates for their return to society, which includes an effort to make it easier for ex-inmates to secure government-issued IDs.
The Justice Department kicked off Monday's contribution to the week by releasing the "Roadmap to Reentry," its vision for how to tackle the social, economic and health challenges that often face individuals as they reenter society, and which often lead them back to the kind of behavior that landed them in jail or prison in the first place.
"The Department of Justice takes the view that 'reentry begins on Day One,'" the policy document states, "And, just as important, our involvement does not end at the prison gates."
Read more: Virginia Gov. Terry McAuliffe Restores Voting Rights to 200,000 Felons 
The paper lays out five "evidence-based principles" that it says with guide the Justice Department's efforts to reform the federal prison system's reentry practices. Those principles are as follows:
• Upon incarceration, every inmate should be provided an individualized reentry plan tailored to his or her risk of recidivism and programmatic needs.
Those goals are to be backed up by specific policy shifts, many of which are not necessarily new, but are improvements on programs that already exist. They include assessments of educational and job skills programs; better tools for assessing a prisoner's risk for re-offending; finding new ways for inmates to stay in touch with family while incarcerated; and an effort to enhance the effectiveness of halfway houses.    
The most striking feature of the document may be the point on how Attorney General Loretta Lynch has asked "every state every state governor to accept BOP identification as a predicate for obtaining state-issued identification upon release." What that means, according to the Associated Press, is that prisoner identification cards could either be exchanged for government-issued IDs or even be used in lieu of them. The ambition to make obtaining identification easier would affect ex-inmates' ability to do everything from applying to a job to voting.   
The policies will affect the roughly 40,000 people who are released from federal prisons annually — a fairly small number compared to the over half a million that are released from state prisons and the 11.4 million that cycle through local jails every year. But it's an important step nonetheless, and will hopefully help inspire reforms on the state level as well.