This Team Took Virtual Reality to the Chernobyl Site — And the Result Is Haunting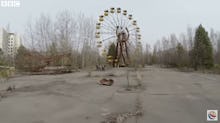 On April 26, 1986, a nuclear power plant explosion near Pripyat, Ukraine killed more than 30 people in the accident. Radioactive dust and debris spread throughout Europe as a result of the explosion, prompting the Ukraine government to evacuate around 135,000 people from the area, CNN reported. 
The 19-mile exclusion zone has remained uninhabited for the past three decades, but soon you will be able to explore inside the decaying disaster site yourself. 
Chernobyl VR Project is an interactive tour of the Chernobyl Nuclear Power Plant and Pripyat region created by software developer the Farm 51. Using drones and special cameras and scanners, the team captured thousands of photographs, 3D models and 360-degree videos of the Chernobyl Power Plant and the surrounding exclusion zone in order to create an accurate recreation of the site. It will be available on the Samsung Gear VR, Oculus Rift and Sony's Playstation VR. 
A teaser posted by BBC News reveals a vacant and decaying environment — a hastily-fled classroom with books still on the desks, crumbling infrastructure and a deteriorating and isolated playground and basketball court. 
"These places in the next years will be fully collapsed," development director of the Farm 51 Wojciech Pazdur said in the BBC video. These are likely the last moments users have to explore the plant and save digital copies of the area, he added. While the project allows users to explore the decay of the last three decades years, it's also an effort to digitally preserve the site. 
Pazdur noted that there are a lot of movies about the Chernobyl disaster (e.g., Chernobyl Diaries, Inside Chernobyl, Chernobyl: The Final Warning), but that the team wanted to create something that would be "closer to the real tour."
The virtual reality experience will let the user freely roam these areas with a guide who will tell you the story behind the Chernobyl disaster and the people who lived in the area. 
The team hasn't announced a specific release date yet, but they did disclose that it will be available close to the disaster's 30-year anniversary, which is Tuesday, April 26. BBC News reported that it will be available in the next few weeks. The world premiere of the virtual tour will take place on Tuesday at the Museum of Kyiv in the Ukraine.