Kate Hudson Threw a Trashy Wedding Party For Her Birthday, and It Was Truly Magical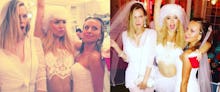 Kate Hudson doesn't need a groom to throw the trashy wedding of her dreams, OK?
The actress/bride turned 37 last week and celebrated Saturday by throwing her annual Hot Mess birthday bash. But this time, there was a twist: The party had a wedding theme! Did she marry herself? The white veil on Instagram says, "You know what? Maybe!"
Randomly throwing a birthday party that doubles as an ironic wedding is truly the move of a Sassy Single Gal who feels herself. Clearly, Kate Hudson fits this description.
Back in November, she told Harper's Bazaar that she had thoroughly enjoyed her year of being single after calling off her engagement to Matthew Bellamy in 2014.
"It's nice to get acquainted with myself alone," Hudson, who has denied reports that she is dating NFL player J.J. Watt, told the magazine.
So the signs were there. A self-wedding was inevitable, really. Congratulations on Kate Hudson's wedding to herself! They're registered at Manolo Blahnik. 
h/t People