Beyoncé "Hold Up" Lyrics and Meaning: Singer Calls Out Side Chicks in New 'Lemonade' Song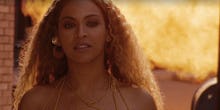 On Saturday night, Beyoncé ended the phase of so-called side chicks, the name often applied to women involved with married men, being an acceptable trend in "Hold Up," off her new album Lemonade. She enlisted the help of a number of music's most influential names, from Diplo to Vampire Weekend's Ezra Koenig, in an effort to liberate women from toxic relationships. 
Diplo produced "Hold Up," likely one of Beyoncé's upcoming singles off Lemonade, given that it came with its own music video, is a song all about eradicating cheating affairs, even if it means losing one's mind. In the beginning of the visual component to "Hold Up," Beyoncé is seen as essentially opening the flood gates, swinging two wide doors open as a wave of water bursts out. It further becomes clear Queen Bey is about to spill all the tea after she snatches a bat from a playing little boy, and begins wreaking havoc on the streets of New Orleans. 
Read more: With 'Lemonade,' Beyoncé Has Already Secured 2016's Album of the Year
Meanwhile, the song's lyrics speak to Beyoncé's total desire to end the trend of "chick chicks" at all costs:
"Can't you see there's no other man above you?/ What a wicked way to treat the girl that loves you/ Hold up, they don't love you like I love you."