Famke Janssen Replaced as Jean Grey in 'X-Men: Apocalypse' — Here's the Real Reason Why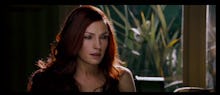 Amidst the mixed critical reaction to The Last Stand, Marvel rebooted the X-Men franchise by jumping through time. They first took to the past in First Class, then followed it up by going to the future (and past) in Days of Future Past — all while making sense and reaping praise. 
Yet the new films didn't conceivably erase the canon of the original trilogy; rather, they added to it. This was best encapsulated in the final sequence of Days of Future Past, where Wolverine (Hugh Jackman) is greeted by a slew of familiar faces: Cyclops (James Marsden), Rogue (Anna Paquin) and his pseudo love interest, Jean Grey (Famke Janssen). 
However, these actors don't have parts to play in the third film of the new series, Apocalypse, after their brief cameos, and have not been confirmed to reprise their roles in the upcoming Wolverine spinoff. Instead, the most prominently featured characters from the old trilogy have been male actors playing their older selves, such as Magneto (Ian McKellen), Professor X (Patrick Stewart) and the ageless Wolverine. 
Janssen says her replacement is a reflection of not just the franchise, but Hollywood's sexist agenda as a whole. 
"It's not the first time obviously that it's happened," Janssen said, in an interview with Entertainment Weekly. "In the X-Men series, they've been doing this for years. Although women, it's interesting because they're replaced, and the older versions — or more mature, whatever the politically correct version of that is — are never to be seen again. Whereas the men are allowed to be both ages. Sexism. I think that I should be back along with my younger version and the way that we've seen it with Magneto and Professor X." 
Moreover, Janssen has tried to talk to producers about a return to the franchise as an older Jean Grey, but has heard "total radio silence" on their end. Still, she says she's really excited to see Sophie Turner — best known for playing Sansa Stark in Game of Thrones — assume the role of Jean Grey. 
"She emailed me before she started filming wanting some pointers," Janssen said. "And I said, 'You don't need any. You're perfect. You're great.' So I can't wait to see the movie and what she's done with it." 
You can check out the clip from Janssen's talk with Entertainment Weekly below. 
Read more: Sexism in Hollywood Is Alive and Well — And These Casting Call Horror Stories Prove It