Piers Morgan Gives His Opinion on Beyoncé's 'Lemonade' Even Though No One Asked for It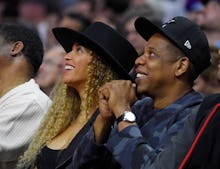 Beyoncé stopped the world on Saturday when she dropped her latest visual album Lemonade.
But while the album resonated with the singer's legion of fans, Beyoncé made it clear that she was speaking primarily to black women. So naturally, a white man felt he had to offer his two cents.
On Monday, news anchor Piers Morgan disturbed the "Beyhive" when he wrote a column for the Daily Mail accusing Beyoncé of "shameless exploitation."
Morgan recalled an interview he did with the singer five years ago where she discussed racism and breaking barriers in the entertainment industry. Morgan said, "Beyoncé then was unrecognizable from the militant activist we see now." 
He called the star "inflammatory" and "agitating," going on to accuse her of playing "the race card" and taking advantage of Trayvon Martin's and Michael Brown's mothers, who are featured in the visual album.
It didn't take long for Beyoncé's fans to come out swinging.
And many of them saw right through Morgan's pleas for Beyoncé to ditch her political message and stick to being solely an entertainer and musician:
Other fans spoke up for Beyoncé's right to make art on her own terms:
And to drive their point home, Twitter users reminded Morgan that Beyoncé likely couldn't care less about his opinion: