Hillary Clinton Thumps Donald Trump Among Millennials, New Poll Finds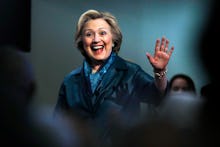 In nominating contest after nominating contest, millennials have rejected Hillary Clinton, overwhelmingly backing Bernie Sanders for the Democratic presidential nomination. But should Clinton emerge as the Democratic nominee, young voters will be firmly in her corner, a new survey found.
The survey, from the Harvard Institute of Politics, shows Clinton crushing Republican frontrunner Donald Trump 61% to 25% among voters between the ages of 18 and 29, with 14% saying they were unsure whom they'd support.
Clinton's lead is padded in part by the reluctance of many young Republicans to back their party's likely standard-bearer. While the former secretary of state takes 83% of young Democrats to the real estate magnate's 5%, Trump only wins 57% of young Republicans to Clinton's 13%. Meanwhile, Clinton bests Trump 43% to 20% among independents, with 36% unsure.
Read more: A Hillary Clinton-Elizabeth Warren Ticket May Be in the Cards, Campaign Hints
Notably, the contest is considerably closer among white millennials, with Clinton leading 38% to 32% among those voters. But she crushes Trump with minorities, taking 76% of young blacks to Trump's 5% and leading 71% to 9% among young Latinos.
While Clinton looks poised to roughly match President Barack Obama's 60% support among millennials in 2012, she may struggle to drive high turnout among young voters, particularly those drawn to Sanders' progressive candidacy.
The Harvard survey found that while Clinton would beat Trump among young voters, she remains deeply unpopular with them. Only 37% view her favorably, compared to 53% who see her in an unfavorable light. (For Trump, the respective figures are a staggering 17% and 74%.) Only Sanders earns positive marks from young voters, with 54% saying they view him favorably and only 31% seeing him unfavorably.
Sanders appears to benefit from millennials' more ambivalent attitudes about capitalism. Asked whether they preferred capitalism or socialism, 42% selected capitalism and 33% picked socialism — but support for socialism rose to 41% among the likeliest voters, while 52% picked capitalism.