Alabama Workers Get Monday Off to Celebrate Confederate Memorial Day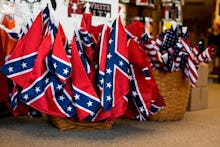 In Alabama, the fourth Monday in April is designated "Confederate Memorial Day," and workers in the state were given Monday off to observe the state's hand in the Civil War.
Confederate Memorial Day has been on the Alabama books since 1901; its roots date back to post-Civil War efforts to get proper graves made for slain Confederate soldiers. 
Twitter users have been airing their frustrations with the state-sanctioned day off: 
Alabama is not alone in its observation of Confederate holidays. Mississippi, Florida, Georgia, Louisiana and Texas also observe some variation of the Confederate holiday, according to the Guardian.
This is also the first Confederate Memorial Day since Alabama Gov. Robert Bentley ordered that the controversial Confederate flag be removed from the state capitol. 
In 2015, Georgia Gov. Nathan Deal struck "Confederate Memorial Day" from the official Georgia holiday calendar, instead using the generic term "State Holiday" in place of both the April holiday and the January observance of Confederate General Robert E. Lee's birthday, the Atlanta Journal-Constitution reported. 
Though the name was changed in Georgia, the spirit of the holiday remains apparent. Deal's spokesman told the Journal-Constitution that the state intends to celebrate the days even if it doesn't "spell it out by name."