This Theater Major's Graduation Photos Perfectly Capture the Harsh Reality of Student Debt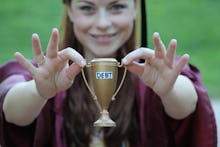 As college students in the class of 2016 get ready to move their tassels to the other side, word that this year's graduates have the best job prospects in the last eight years has some feeling plenty hopeful. But that doesn't mean their degree won't still come with a hefty price tag — and it's a reality that's hard to forget for Meredith College senior Maigan Kennedy. 
For her senior portraits, Kennedy, a theater major, captured the bittersweetness of graduation with a series of photos of her literally drowning in loan debt alongside the typical cap-and-gown head shots. 
Read more: Here's the Law That Could Erase Student Loan Debt for College Students Across America
Kennedy's friend Areon Mobasher took the photos and told BuzzFeed that while the pictures aren't exactly conventional, they fit Kennedy's personality to a tee. 
"I initially expected them to be the standard series of graduation photos, similar to the ones I've been taking for seniors at my school these past few weeks," Mobasher said. "Knowing Maigan... well, I should have expected these photos were to happen."
According to BuzzFeed, Kennedy got the inspiration for one of the portraits from an unlikely source: American Beauty. Instead of burying herself in rose petals as Mena Suvari does in one of the 1999 film's iconic scenes, Kennedy drapes herself with overdue student loan bills — likely what Lacan had in mind when he talked about the Real. 
Last year's college graduates were saddled with an average of about $35,000 in student loan debt. Also known as the price of a Tesla 3.
Kennedy told Buzzfeed, "I kind of wanted to poke fun at ... the institution of academia."
Mission accomplished.