Donald Trump and Hillary Clinton Share Shell Corporation Address in Delaware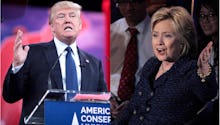 What do Donald Trump and Hillary Clinton have in common? They share the same corporate tax address.
A two-story office complex in Wilmington, Delaware, a state known for being remarkably easy to use as a tax-avoidance shelter, "is the registered address of more than 285,000 companies," including ones belonging to Trump, Clinton and former President Bill Clinton, reports the Guardian. Trump's accounts are linked to billions in assets, while Hillary Clinton's received more than $16 million in speaking fees and book royalties in the year the 2014 alone.
The paper noted the building at 1209 North Orange is the official home of "Apple, American Airlines, Coca-Cola, Walmart and dozens of other companies in the Fortune 500," as well as thousands of other corporations who wish to "take advantage of [the state's] strict corporate secrecy rules, business-friendly courts and the 'Delaware loophole.'"
Read more: The Panama Papers Leak Reveal Just How Badly the 1% Is Screwing Us Over
That loophole, the News Journal's Sheldon Pollack wrote, allows corporations located outside the state to create holding companies in Delaware, transfer "intangible assets" like trade names and intellectual property to those companies, and then claim all profits from those assets as tax-exempt under Delaware law. According to Pollack, the state gets kickbacks in the form of licensing fees, but the real beneficiaries are rich clients (who saved an estimated $9.5 billion in taxes over the decade preceding 2012) and a powerful Delaware-based tax lobby.
Unlike the kind of international tax havens exposed in the massive Panama Papers leak last month, Delaware only shields domestic corporations from taxes. But the accounts — first revealed in tax documents last year — are a bad look for Clinton, who has rallied against "outrageous tax havens and loopholes that super-rich people across the world are exploiting in Panama and elsewhere" on the campaign trail.
It's unlikely anyone is surprised Trump has set up a shell corporation in a state that allows him to legally write off piles of tax money, seeing as he openly brags about paying a low tax rate. But the real estate billionaire has targeted hedge fund managers and other members of the elite class for "getting away with murder" on their taxes.
Since the tax-avoidance structure is legal, and pretty much everyone seeks to minimize the amount due on their tax returns, there's a case to be made that not taking advantage of Delaware's business-friendly tax structure would be financially responsible. But the accounts are yet another reminder those laws reflect the power of the wealthy to game the system for their own benefit.
In a statement to the Guardian, a Clinton spokesman said the corporation "was set up when Secretary Clinton left the State Department as an entity to manage her book and speaking income. No federal, state, or local taxes were saved by the Clintons as a result of this structure."