Beyonce's 'Lemonade' Reviews: Album Explores "Betrayal, Jealousy, Revenge and Rage"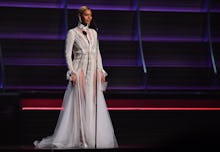 On Saturday, Beyoncé dropped her long-awaited sixth album Lemonade. In its wake, the internet went into a rightful frenzy — and now the time for music critics to send in their reviews has come. 
From the start, it was obvious that Beyoncé's visual album was going to be an intimate and up-close examination of topics such as race, infidelity and identity. It was described as "a conceptual project based on every woman's journey of self knowledge and healing," on Tidal.
But it was the 12-song album's overarching theme of the cheating husband who blindsided most fans, that was discussed thoroughly in its reviews. The powerful and epic Lemonade was mostly praised for how personal and bold it felt, and Beyoncé has been hailed for her talent. 
Beyoncé's album follows high-profile albums from other pop stars: Kanye West's The Life of Pablo and Rihanna's Anti. The Guardian's Alexis Petridis compared Lemonade to the aforementioned, saying, 
She's obviously not the only major pop star willing to experiment and push at the boundaries of her sound: that's clearly what Rihanna and Kanye West were attempting to do on 'Anti' and 'The Life of Pablo,' respectively. The difference is that those albums were at best a bold and intriguing mess: the sense that the artists behind them were having trouble marshalling their ideas was hard to escape. 'Lemonade,' however, feels like a success, made by someone very much in control.
Read more: Beyoncé's 'Lemonade' Is What Happens When Black Women Control Their Art
Mosi Reeves wrote for Rolling Stone that Beyonce's album "illustrates a cogent argument that strong and empowered women make better societies." Reeves added, 
But the pointed sociopolitical and romantic critiques that course through 'Lemonade' tell us that she's engaged in the national conversation on race, class, gender and feminism, even though she does so from a vantage point of being an immensely talented first among equals.
For Time, Maura Johnston wrote, 
Yet in contrast to 2013's uxorious 'Beyoncé,' 'Lemonade' is very much about romantic strife; it opens with the lyric, 'You can taste the dishonesty,' and takes off from there, detailing transgressions both major and minor. Appropriately enough, it soars when Beyoncé is at her most aggrieved.
Jon Pareles for the New York Times called Lemonade "an album that probes betrayal, jealousy, revenge and rage before dutifully willing itself toward reconciliation at the end." He concluded, 
But in the meantime she sings wholeheartedly, encapsulates deep dilemmas in terse singalong lines and touches on ideas and emotions that so many people feel. She is a star whose world is vastly different from that of her listeners. But in matters of the heart, with their complications and paradoxes, Beyoncé joins all of us.
For NPR, Kiana Fitzgerald wrote, 
Beyoncé couldn't have produced a body of work this defiant, or blunt, two years ago. 'Lemonade' has been made possible by the cultural, social and political upheaval we're in the midst of, triggered by the deaths of boys and fathers and women, who will never be forgotten.
NME's Larry Bartleet wrote, that Lemonade's
first four tracks are a thrillingly honest sucker-punch from a famously guarded pop star, who came to fame via Destiny's Child and whose picture-perfect solo career has since helped her amass a fortune exceeding $450 million.
But it's safe to say that fans everywhere are enjoying the lemonade that Beyoncé has made.