Detroit High School Girls Make History at Urban Debate League National Championship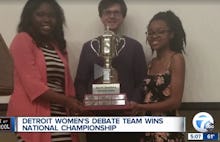 Two high school seniors made history at the 2016 Urban Debate League's National Championship in San Francisco State University in California earlier this month. 
Tiera Colvin and Tamara Morrison became the first African-American women to win the debate competition, which took place April 14-17. 
"We were the first black women to ever actually win the tournament," Morrison told WXYZ Detroit. However, the competition made the two students realize that debate is an activity dominated by men, and it is an expensive venture.
The costs of running a debate program can cost up to $25,000 annually, so the school asks for donations from the community to support the debate team.
Read more: Black Girl Mogul Mikaila Ulmer's BeeSweet Lemonade Made $11 Million From Whole Foods
The Urban Debate League seeks to give students from urban schools the same opportunities that are afforded to wealthier, suburban schools that have established debate programs. 
"Competitive debate has always been available to students at suburban schools, but twenty years ago it disappeared from more cash-strapped urban public schools," the official website for the National Association of Urban Debate Leagues states. "Urban debate programs level the playing field, giving urban students access to the same academically rigorous debate programs available to their suburban peers."
The two young women, who attend University Prep Academy in Detroit, are taking advantage of these opportunities.
"We embraced the struggle and know that the struggle is what is going to make us strong enough to endure anything that comes with this activity," Morrison told WXYZ Detroit. 
The two debate champions aren't finished. They will be heading to the University of Kentucky to participate in the "Super Bowl" of debates, debate team coach Sharon Hopkins told WXYZ Detroit. 
If they finish first at the national high school debate competition in Lexington, Kentucky, they will become the first African-American women to win the Tournament of Champions, which begins April 30.