Beyoncé "Freedom" Lyrics and Meaning: A Powerful Anthem for Black Women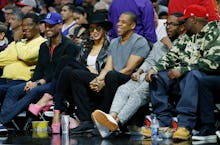 Beyoncé's politically engaging visual album Lemonade's debut on Saturday night was massive — but things were taken to another level as fans witnessed the iconic unveiling of "Freedom," the Houston hitmaker's new track with Kendrick Lamar.
Starting with the February release of her single "Formation," Beyoncé has thrown her support behind the Black Lives Matter movement, a group of organizers advocating for the equal treatment and rights of blacks nationwide. Lemonade, and specifically "Freedom," is a call to action for women, specifically black women. 
Beyoncé opens the visual component to "Freedom" with the mothers of Eric Garner, Michael Brown and Trayvon Martin looking on with some of the entertainment industry's most prominent black actresses and singers, from Beyoncé's new prodigies Chloe and Halle to the latest Cover Girl, Zendaya.
Read more: Introducing Chloe and Halle, Beyoncé's Young, Black Female Protoges
Penned by British pop songwriter Carla Marie Williams, it wasn't clear whether the track would find its way onto Beyoncé's album until Lemonade was unleashed to fans everywhere. "Like everyone else, I've been, 'Where is it? Where is it?' When someone is such a superstar you don't know if you're going to make it," Williams told BBC Radio 1Xtra's DJ Target. "So I've been sitting on the edge of my seat waiting like everyone else. Now it's happened. I'm taking it in, going, 'This is sick. Oh my God.'"
The lyrics to "Freedom" speak volumes to Beyoncé's underlying political and societal messages:
Tryna rain, trine rain on the thunder
When Lamar enters the song, it sounds as though he's singing to all the mothers afflicted by unnecessary violence against black men and women:
Mama don't cry for me, ride for me