Love Pasta and Making Out? "Kissing Garlic" Cuts Bad Breath and Romantic Woes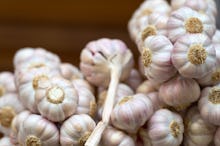 Is your passion for garlic hampering your love life? Two enterprising Italians — Alessandro Guagni and Lorenzo Bianchi — hear you, and they're doing something about it. 
Read more: Does Rubbing Garlic on Your Face Really Get Rid of Pimples?
The pair is trying to bring back a make-out friendly garlic strain, aglione, which hasn't been widely cultivated in Italy for 40 years, according to the Guardian. Guagni and Bianchi are vying to get their less-pungent, more-digestible "kissing garlic" on the menu at some of Italy's best restaurants.
A construction engineer and a lawyer by trade, Guagni and Bianchi turned to cultivating giant garlic (about 10 times the size of your average bulb, they said) three years ago, when Guagni spotted it while on vacation in Tuscany. "We wanted to do something to escape from our offices," Guagni told the Guardian, and growing "big garlic" — the literal translation of aglione — provided just such a diversion. Thus, they started asking after the crop at Tuscan restaurants.
"We asked: 'Where can we find it?' And they [restauranteurs] said: 'No, there isn't any. You will never find it because it is over. It's extinct.'" But aglione is not extinct. Eventually they were able to locate some seeds, and they planted two hectares of land with the "kissing garlic," which will be ready for harvest in a few months. Thereafter, the world will be able to make out with abandon immediately after garlic-laden feasts — what a time to be alive.