Making Beyoncé's Lemonade Family Recipe Is Probably a Horrible Idea for Your Health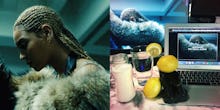 With Lemonade, Beyoncé has proven her artistic ability to break the music industry's boundaries confining the pop genre — and push them to a whole new level. 
While she's mixed a world of flavors into her sixth studio album, from contemporary reggae to soul and R&B, we wouldn't trust Beyoncé's judgement on how to make the perfect summertime refresher — at least if she's using her family's lemonade recipe. 
During HBO's special premiere of the Houston hitmaker's latest visual album, Beyoncé can be heard reciting her family's traditional lemonade concoction: "Take one pint of water, add a half pound of sugar, the juice of eight lemons," Beyoncé slowly says. "Pour the water from one jug, then into the other, several times. Strain through a clean napkin." 
Tristian, no! We went ahead and followed Beyoncé's directions to create the most ultimate lemonade possible —  because who are we to deny the queen? However, it turns out a pint of water served up with a heaping load of a half pound of sugar would cause more than a sugar rush — regularly drinking Beyoncé's lemonade (which is clearly overloaded with sugar) could increase the risk of developing diabetes. 
Here is what a pint of water looks like next to half a pound of sugar (and some lemons).
You really want to mix that together? 
BeyHive, take note — while Beyoncé might have just dropped the juiciest album of 2016, we're taking a hard pass at drinking her lemonade. 
Read more: With 'Lemonade,' Beyonce Just Secured 2016's Album of the Year