Geniuses at MIT Just Revealed the Fast Food Restaurant of the Future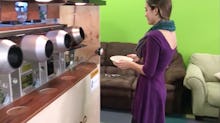 Future college cafeteria chefs may be robots dumping mac and cheese into bowls. 
Mechanical engineering students from the Massachusetts Institute of Technology won the Lemelson-MIT Student Prize "Eat It!" award for their fully automated food-delivery machine, Spyce Kitchen, which does just that. 
Spyce cooks and serves meals in under five minutes with no human involvement, and is currently whipping up dishes like jambalaya, mac and cheese and curry in an MIT dining hall, Tech Insider reported. 
You will not be greeted with "Can I take your order?" Instead, you order food using an accompanying phone app or via a touchscreen.
The grub gizmo pours the corresponding ingredients of your order into rotating barrels where the food is cooked, mixed and spat out into your bowl on the counter, Tech Insider reported.
Spyce is more than just a glorified vending machine. It incorporates a refrigerator, dishwasher, stovetop and chef into one machine and takes up 20 square feet, according to Tech Insider.
The MIT brains behind the automated restaurant think it will "revolutionize the fast food industry," MIT News reported, thanks to its economical operating costs coupled with quality, healthy meals at affordable prices.
Let's just hope it's smarter and more efficient than the robot chefs and waiters who were recently fired in China because, well — they sucked at it.