Police Union Says Tamir Rice's Family Should Help Teach Other Kids How Not to Get Killed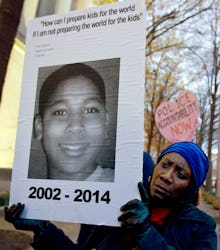 Get the five stories that will challenge you to rethink the world by signing up for MicCheck Daily.
On Monday, news broke that the city of Cleveland had agreed to pay a $6 million settlement to the family of 12-year-old Tamir Rice, who was shot and killed by Cleveland Police Officer Timothy Loehmann in November 2014 while playing with a toy gun.
Late Monday afternoon, Stephen Loomis, president of the Cleveland Police Patrolmen's Association, released an official statement saying that hopes that Rice's family will use some of the settlement money to teach kids about the "dangers" of having a toy gun — which seems to imply that Rice was responsible for his own death at the hands of a police officer.
"We have maintained from the onset this has been an absolute tragedy for the Rice family as well as our involved officers and their families," the statement reads. "We can only hope the Rice family and their attorneys will use a portion of this settlement to help educate the youth of Cleveland in the dangers associated with the mishandling of both real and facsimile firearms."
Neither Loehmann nor his partner, officer Frank Garmback, who was also involved in the shooting, faced criminal charges in Rice's death. In February, the mayor of Cleveland had to apologize to the Rice family after they were sent a $500 ambulance bill.
"Loomis has used Tamir's shooting to show that police often cannot tell the difference between real and replica firearms," Cleveland.com wrote, and in his latest statement, Loomis seems to be doubling down on the insinuation that Rice is somehow to blame for being killed.
In an email to Cleveland.com, Rice family attorney Subodh Chandra criticized Loomis' statement, saying that his words "reflect all that is wrong with Cleveland's police division — he managed to (1) blame the victim, (2) equate the loss of the life of a 12-year-old child with the officers facing scrutiny and (3) demand money from the victim's family and counsel ... We're all still in trouble if Loomis' attitude reflects rank-and-file officers' attitudes."