April 26 Democratic Primaries: Latest Polls, What to Expect in Clinton vs. Sanders Battle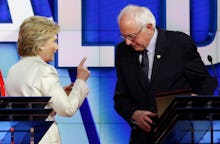 Even after his landslide loss to Hillary Clinton in last week's New York primary, Bernie Sanders insists he's in the race for the Democratic presidential nomination for the long haul, vowing to forge on through the final primaries in June.
But Tuesday may bring a reckoning for the Vermont senator and supporters of his inequality-focused campaign.
Read more: Bernie Sanders Says the Path to Beating Hillary Clinton Is "Narrow"
One week after Clinton's 16-point romp in the Empire State cemented her frontrunner status, the former secretary of state may well sweep the five Northeastern and mid-Atlantic primaries Tuesday, casting further doubt on Sanders' rationale for continuing a campaign many Democrats fear is stoking intra-party warfare.
With voters heading to the polls in Pennsylvania, Connecticut, Maryland, Delaware and Rhode Island, polls show Clinton poised to move closer to the 2,383 delegates required to secure the Democratic nod. Indeed, if she only wins 28% of the delegates up for grabs Tuesday, she'll still be on track to hit the magic number.
Here's a guide to watching Tuesday's primaries. Polls close in each state at 8 p.m. Eastern.
Pennsylvania
Though Sanders hoped his message of economic equality and opposition to free trade agreements would resonate in this economically embattled Rust Belt state, Clinton is positioned for a robust victory in the Keystone State, where she defeated then-Sen. Barack Obama by 10 percentage points in 2008.
The RealClearPolitics polling average gives Clinton a 54% to 38% lead over Sanders, indicating that she'll walk away with a huge chunk of Pennsylvania's 189 pledged delegates.
Connecticut
The Nutmeg State, which will send 55 pledged delegates to the Democratic National Convention, broke narrowly for Obama over Clinton eight years ago — but Clinton may be the one edging out her rival this go-around.
Clinton leads Sanders 49% to 44%, per RealClearPolitics. Though that margin means a Sanders victory is perfectly plausible, he hasn't led in a single public poll.
Maryland
With Clinton likely to benefit from overwhelming support from black voters in Prince George's County and the Baltimore area, as well as from well-off professionals in the D.C. suburbs, there's little question that she'll claim the lion's share of Maryland's 95 pledged delegates.
Sanders could be in for a blowout, with RealClearPolitics showing Clinton up 58% to 34%.
Delaware
Polling has been sparse in Delaware, with the only recent survey there giving Clinton a 45% to 38% lead over Sanders.
A boisterous Clinton rally Monday in Wilmington pointed to deep enthusiasm for her candidacy here, and the state's Democratic establishment united behind Clinton after Vice President Joe Biden, the longtime home-state senator, opted not to mount a bid of his own.
Delaware Democrats will send 21 pledged delegates to the Democratic National Convention.
Rhode Island
The Ocean State is likely Sanders' best chance for a victory. The problem? It only awards 24 pledged delegates.
Recent polls find the race a toss-up, with the RealClearPolitics average placing Clinton ever-so-slightly ahead, 44% to 42%.