April 26 Republican Primaries: Latest Polls and What to Expect in the GOP Races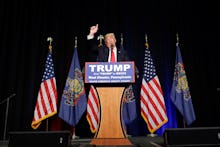 What a difference three weeks make.
Republican presidential frontrunner Donald Trump began April with a crushing loss to Ted Cruz in the Wisconsin primary, seemingly presaging a knock-down, drag-out fight at the GOP convention in July — a contest in which the deck seemed stacked against Trump.
Then came Trump's 35-point landslide in New York on April 19, an outcome that allowed Trump to nearly sweep his home state's 95 delegates and heralded a reboot in his embattled campaign.
Read more: Here's What the Ted Cruz-John Kasich Alliance Means to You
One week later, Trump is poised to barrel closer to the 1,237 delegates required to clinch the GOP nod ahead of the party convention, with him likely to sweep primaries in five Northeastern and mid-Atlantic states.
Voters head to the polls Tuesday in Pennsylvania, Connecticut, Maryland, Delaware and Rhode Island, and the question in each state isn't whether Trump will win, but how overwhelmingly he'll defeat Cruz and John Kasich.
Bowing to grim poll numbers, Cruz and Kasich are already looking past Tuesday's primaries to contests in May and June — by which point it may well be too late to derail a steamrolling Trump Train.
Here's a guide to watching Tuesday's contests. Polls close at 8 p.m. Eastern in each state.
Pennsylvania
By far the richest delegate prize, the Keystone State will send 71 delegates to the GOP convention, although 54 of those delegates aren't actually bound to the results of the primary — an arrangement that's fueled criticism that the process is rigged against insurgents like Trump.
The remaining 17 delegates are allotted to the statewide winner, and polls show Trump poised to win handily. The RealClearPolitics polling average finds him taking 48% of the vote to Cruz's 27%. Kasich, a native of McKees Rocks, Pennsylvania, only earns 22% support.
Connecticut
The same dynamic that allowed Trump to win nearby Massachusetts and New Hampshire — a low concentration of evangelical voters, and overwhelming support among blue-collar whites — is likely to power him to victory in the Nutmeg State, where 28 delegates are up for grabs.
Connecticut's five congressional districts will each award three delegates to the district winner, while the remaining 13 delegates are apportioned statewide. Should the statewide victory win more than 50% support, he'll claim all 13 of those delegates — and Trump is well-positioned to do so.
The RealClearPolitics average shows Trump leading Kasich 54% to 27%, with Cruz lagging at 14%.
Trump's greatest vulnerability is in the leafy fourth congressional district, which covers much of suburban New York City and where Kasich may benefit from the moderate bent of many GOP voters.
Maryland
Popular Republican Gov. Larry Hogan may be an implacable opponent of Trump's candidacy, but Maryland Republicans are poised to flout Hogan's wishes.
With 38 delegates up for grabs — the statewide winner receives 14, while each of Maryland's eight congressional districts awards three to the district winner — Trump is in a dominant position in the polls, boasting 48% support to Kasich's 27% and Cruz's 22%, per RealClearPolitics.
As in Connecticut's fourth district, Trump may fall in Maryland's eighth congressional district, which includes suburban Washington, D.C., and features a high concentration of well-educated, affluent voters — a group with which Trump has struggled.
Delaware
Republicans in the nation's first state will award all 16 of their delegates to the statewide winner. There's little suspense as to who that will be: In the only public survey to date, conducted in mid-April, Trump took 55% of the vote to Kasich's 18% and Cruz's 15%.
Rhode Island
Rhode Island's 19 delegates are awarded proportionally in a hybrid district-and-statewide system to candidates receiving at least 10% support — a threshold Cruz barely clears in recent polls.
The RealClearPolitics average finds Trump at 52%, Kasich at 23% and Cruz at 12%.
Looking forward: Heading into Tuesday evening, Trump leads the field with 845 delegates to Cruz's 559 and Kasich's 148.
Securing the GOP nod before the Cleveland convention will require Trump to win roughly 53% of the remaining delegates up for grabs. The strength of his performance on Tuesday will go a long way toward indicating how likely he is to hit that target.