Amal Clooney Just Tore Into Donald Trump for Islamophobic Statements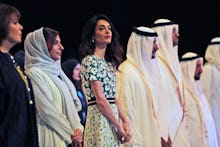 In a BBC interview Monday night, Amal Clooney slammed Republican frontrunner Donald Trump for his Islamophobic comments made on the campaign trail.
The British-Lebanese human rights lawyer was discussing one of her ongoing cases at the European Court of Human Rights, in which she is representing journalist and Azerbaijan prisoner Khadija Ismayilova, when the conversation turned to the U.S. presidential primary race:
If you actually look at what [Trump] specifically says in that now infamous speech about Muslims, he kept saying, 'They only want jihad; they don't believe in our way of life; they don't respect our system.' And when he says 'they'... And, you know, you watch the media coverage afterwards and people should've been saying, 'Do you mean the 1.5 billion people around the world who fit that description? Do you mean the people who are U.S. citizens, who are members of your military, the vast majority of whom are not extremist or violent in any way?'
Clooney and her actor husband, George, have been vocal supporters of Democratic candidate Hillary Clinton, hosting a series of fundraising dinners for her throughout April. 
"If you listen to the loudest voices out there today, you'd think we're a country that hates Mexicans, hates Muslims, and thinks that committing war crimes is the best way to make America great again," George Clooney wrote in an invitation to an April 16 fundraiser, according to CNN. 
The actor and longtime political activist has been more explicit in the past, calling Trump "a xenophobic fascist" to the Guardian in March.
Read more: The AP Just Nailed the Problem With How We Talk About Amal Clooney