First Lady Michelle Obama Slams Mississippi Religious Freedom Bill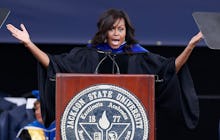 First lady Michelle Obama took a rare moment to clearly establish where she stands on the anti-LGBT bills being introduced across the nation while delivering the Jackson State University commencement speech in Mississippi on Saturday. The state recently passed its own "religious freedom" bill, allowing private business owners to use religious justification to deny service to people, namely LGBT people —  legislation people including Ellen Degeneres have called "the definition of discrimination."
"We see it right here in Mississippi — just two weeks ago — how swiftly progress can hurtle backward," Obama told the audience of graduating students. "How easy it is to single out a small group and marginalize them because of who they are or who they love."
Read more: This Billboard Is the Perfect Clapback to Mississippi's New Anti-LGBT Law
"So we've got to stand side by side with all our neighbors — straight, gay, lesbian, bisexual, transgender; Muslim, Jew, Christian, Hindu, immigrant, Native American — because the march for civil rights isn't just about African-Americans, it's about all Americans," the first lady continued. "It's about making things more just, more equal, more free for all our kids and grandkids. That's the story you all have the opportunity to write. That's what this historic university has prepared you to do."
There are over 150 anti-LGBT bills flooding state legislatures throughout the United States, as Vocativ reported in February. Meanwhile, more youth than ever before are identifying as other than heterosexual, with a new report indicating that only 48% of teens identify as straight. 
"We pay endless attention to folks who are blocking action, blocking judges, blocking immigration, blocking a raise in the minimum wage. Just blocking," Obama said. "We are consumed with the anger and vitriol that are bubbling up, with folks shouting at each other, using hateful and divisive language."