Daisy Ridley's Jedi-Esque Wushu Skills Show Just How Aligned With the Force She Is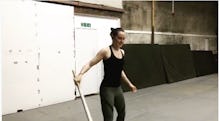 When we last see Daisy Ridley's Rey in Star Wars: The Force Awakens, she has finally come face to face with Luke Skywalker, presumably to begin her Jedi training. And though the film ended before we could be treated to any Rocky-esque training montages, Ridley has been showing off her IRL martial arts skills.
In a video posted Monday to her Instagram, the 24-year-old British actress demonstrated her sword-wielding techniques, crediting her newfound skills to Liang Yang. The name might be unfamiliar, but there's a good chance you've seen his work. Yang is a professional stuntman who played Stormtrooper FN-2199 in The Force Awakens, and was best known for his badass baton-wielding, brief fight scene with Finn and convincing line delivery (no one shouts "Traitor!" better).
Whether it's traitorous for a Stormtrooper to teach a budding Jedi is another question entirely, but Ridley certainly looks impressive doing so. At the very least, it's easy for fans to envision a lightsaber in her hands for Episode VIII. 
Check out the video from Ridley's Instagram below: 
Read more: This Instagram From 'Star Wars'' Daisy Ridley Is the Perfect Response to Fans' Complaints