Bill Cosby Loses Appeal in Pennsylvania Court, Criminal Case Will Proceed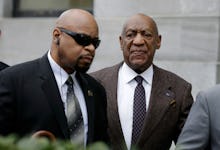 On Monday, a Pennsylvania court rejected Bill Cosby's appeal to throw out his criminal case for allegedly drugging and sexually assaulting former Temple University employee Andrea Constand in 2004. Cosby was first charged with felony aggravated indecent assault in December, just narrowly within the window of Pennsylvania's 12-year statute of limitations for rape.
According to the Guardian, the district attorney's office in Montgomery County will soon schedule a preliminary hearing date to present their case against Cosby. However, Cosby has yet to enter a plea and continues to walk free after paying a $1 million bail following his December arraignment.
Read more: Bill Cosby's Sexual Assault Case Is a Challenge For Us, Not Just Him
The Pennsylvania criminal case against Cosby represents just one of at least 46 women who have alleged that the comedian sexually assaulted them. While 35 broke their silence in a July New York magazine cover story, many of them will not be able to press formal charges against Cosby due to expired statutes of limitation in their states.
Cosby could appeal Monday's ruling, bringing it to the state's supreme court. 
"He may do that," University of Pennsylvania law professor David Rudovsky told the Guardian, "but the critical question will be whether the supreme court will give him a stay during the review."
If convicted in Pennsylvania, Cosby could face a maximum sentence of 5 to 10 years in prison and a $25,000 fine.