Samantha Bee Mocks the Kasich/Cruz Alliance, and How It Won't Stop Donald Trump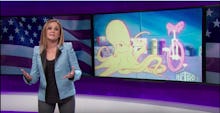 With Texas Sen. Ted Cruz and Ohio Gov. John Kasich hoping to stop GOP frontrunner Donald Trump from nabbing the Republican presidential nomination, the two candidates have aligned to try and secure enough delegates to stop him. The biggest problem with this plan? They're both mathematically eliminated from the nomination, and Samantha Bee let them have it on Full Frontal. 
Of Kasich, Bee points out that he's still fourth in the delegate count, even behind Marco Rubio who had dropped out in March. Basically, it doesn't make any sense for him to still be in the race. 
"What's your plan?" Bee posits. "Wait until the Republican party has slaughtered itself, then mosey onto the battlefield and suck the marrow from the delegates' bones for strength?" 
Cruz's situation isn't as dire, but he's similarly eliminated — all the more ironic considering he has also chided Kasich for staying in the race, and now that same principle applies to him.
"At that point, Ted remembered that modern math was invented by the Greeks, who also invented homosexuality," Bee says. "And we should just pray them both away." 
The turmoil of a brokered convention aside, this leaves Trump as the most likely nominee, and has assured Republicans that he will become more "presidential" in the process. However, as Bee notes, this wouldn't detract from the oft-controversial statements he's made in the past. Trump's typical retort to these concerns has been to label his past remarks as part of his image as a real estate mogul being an entertainer. 
"So, all the horrible things he said in character as an entertainer don't count," Bee says. "Kind of like all those murders I committed in character dressed as a clown don't count." 
Still, the chaos of the convention — coupled with a supposedly transformed Trump — could end up being a form of entertainment in and of itself. At least there's some upside there. 
"The Republican convention is going to be party elites calling the base gullible rubes while trying to Romnify their racist messiah so he can also lose the general election," Bee says, with glee. "Now that is entertainment, see you in Cleveland." 
You can check out the segment from Full Frontal below: 
Read more: Samantha Bee: Harriet Tubman Should Be on the Twenty, Jackson a "Genocidal Prick"