Kim Kardashian West Says Motherhood Is Totally Screwing With Her Workout Routine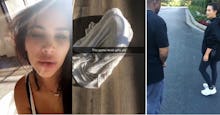 Get the five stories that will challenge you to rethink the world by signing up for MicCheck Daily.
If you were on the fence about having children in your future, consider your morning workout routine. Is it possible to even have one of those while also being a parent? The experience of one Kim Kardashian West suggests that it may not be.
On Monday, the reality maven's Snapchats depicted the hellish journey of trying to wake up early and squeeze in a workout while your children try to cock-block you from reaching your fitness goals.
We begin with Kim and her daughter North laying in bed as Kim pleads: "My workout's in 15 minutes."
North DGAF, so she "shmooshes" her mother.
Some gibberish happens.
Kim finally assumes a semi-upright position and wonders aloud: "What's happening?! I just need to get up and work out."
North then decides to troll her mother by hiding under a blanket, so as to create the optical illusion that she is not actually in the room. (Where's North? We can't find her.)
"Hello!" North proclaims from off-camera (or is it on-camera? We just don't know, 'cause she's hiding!), effectively giving Kim's health and wellness routine a big middle finger.
Kim finally manages to steal away for a light outdoor jog with her husband, who clearly doesn't take jogging seriously.
The moral of this story is that you can save yourself a lot of mental anguish in the future by choosing from one of two simple life paths:
1. Have kids and then resign yourself to a completely sedentary lifestyle of obesity and Fritos, or
2. Don't have kids.
h/t Cosmopolitan