Azealia Banks Slams Beyoncé's 'Lemonade' and Its "Heartbroken Black Female" Narrative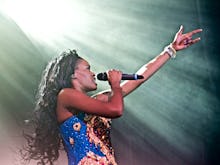 You can't please everyone, Bey.
Rapper Azealia Banks tweeted her frustrations Monday night with Beyoncé's shoo-in-for-album-of-the-year Lemonade, which she released Saturday after HBO aired the visual album. 
Read more: Beyoncé's 'Lemonade' Is What Happens When Black Women Control Their Art
Banks took the umbrage with some of the personal content on Lemonade, specifically the songs that reference possible marital woes between Beyoncé and her husband Jay Z. Banks said Beyoncé's numerous songs about Jay Z are the "antithesis of what feminism is" and called devoting so much song time to her husband "stupidity." 
Banks began her rant by agreeing with journalist Piers Morgan's much-maligned Beyoncé takedown in the Daily Mail. Banks then took Beyoncé to task for the price of her ticket sales, lyrics in "Formation" and the "bow down" directive from her song "Flawless."
Banks then apparently accused Beyoncé of stealing ideas from other artists — a claim thrown at Beyoncé many times. 
When people pushed back against Banks, she said she was not trying to take Beyoncé down, but was calling her out for stealing ideas from other artists. Banks claims that Beyoncé began using African religious iconography in her art after she did. 
Banks' tweets were far different from the one she sent after Lemonade debuted Saturday evening. 
Banks' tweets Monday seem to miss a larger point around Lemonade and the black women who are flawlessly on display throughout the visual album. While Beyoncé's relationship with Jay Z may have been one of the topics of the album, Beyoncé also spent a great deal of time touching on themes she began to discuss in "Formation" — namely, Black Lives Matter and the resilience of black women. During "Freedom," Beyoncé featured several mothers of black men who were killed either by police or vigilantes. 
The poems of Warsan Shire and speeches by Malcolm X woven throughout Lemonade are testament to the fact that while Beyoncé is the creative force behind Lemonade she is not its sole subject. She is interested in larger questions about black womanhood and black women's bodies. To suggest that Beyoncé's marriage is the only subject at hand in Lemonade begs the simple question: Have you even seen it?