Alleged Columbia Rapist Is Calling Himself a Victim of Gender Discrimination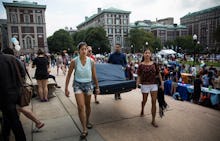 On Monday, Columbia graduate Emma Sulkowicz's alleged rapist Paul Nungesser filed a 100-page complaint against the university that said he was a victim of gender-based harassment, sexual harassment and gender-based discrimination. In short, reverse sexism.
According to Newsweek, the document is Nungesser's latest effort to revive a lawsuit he filed last April alleging that Columbia president Lee Bollinger, art professor Jon Kessler and the university itself had violated Title IX in permitting Sulkowicz's activist art project "Carry That Weight" to occur on campus. Last month, United States District Court Judge Gregory Woods dismissed the suit, but told Nungesser he could file a new complaint. 
Read more: Beyond "Mattress Girl": The Case for a More Complex Campus Sexual Assault Media Narrative
The latest complaint alleged that Nungesser's treatment as a suspected rapist under the school's policies "perpetuate[s] the stereotype of the sex-driven male" and that the university's policies are "largely based on the stereotype of the active, voracious, aggressive male and the passive, restrained, non-aggressive woman." 
Nungesser also took issue with the school's sexual assault prevention rhetoric, which he said assumes violence against women and emphasizes a narrative of a person being forcibly penetrated as the victim while ignoring that a person could be "made to penetrate." Nungesser also argues that women are allowed more freedom of speech on campus than men and that the term "rapist" is a gendered slur targeting men.
Sulkowicz began "Carry That Weight," which doubled as her senior thesis, after Columbia found Nungesser not responsible of raping her in 2012. 
And given the university's decision, in his complaint, Nungesser argues that his experience "raises fundamental questions that our society deserves answers to."