Anonymous Group Hacks the KKK and Shuts Down Its Website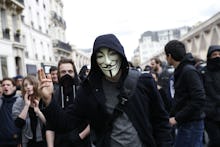 Last year Anonymous took on the Ku Klux Klan, scrubbing the web for names and outing hundreds of alleged members. But the men in masks aren't nearly done with the men in hoods.
Anonymous took down the White Knights of the KKK's website on Saturday, and have kept it down for three days now. The White Knights are a particularly violent and militant group, responsible for the deaths of several civil rights workers.
The attack came from Ghost Squad, a small splinter cell of Anonymous. Many Anonymous operations, major and otherwise, come from smaller groups that break off and self-organize into more manageable cadres.
To take down the site, Ghost Group used a DDoS attack, a rudimentary hack that overloads a website with more traffic than it's used to. The site hasn't been deleted or removed — when the DDoS lets up or the KKK hires a special service to mitigate the attack, the site will be intact and on display again.
"We targeted the KKK due to our hackers being up in their face, we believe in free speech but their form of beliefs is monolithic and evil," Ghost Squad representative told HackRead.
As of the time of writing, the KKK's site is still down.