Moms of Instagram Applaud Reformation for Designing Stylish Breastfeeding-Friendly Clothes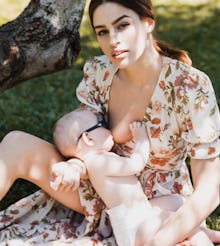 Reformation is nothing if not hip to the times. 
The label designs sustainable, on-trend clothing with an I-give-0-fucks kind of vibe, targeting women who eschew female stereotypes and are unashamed to show a little skin. An Instagram post Monday was no exception to that rule, featuring model and mom Abby Brothers breastfeeding her baby daughter while wearing the Addilyn dress. Brothers looked flat-out stunning, pretty much everyone agreed.
"Cool dress, mom," the shot was captioned. "Engineered for easy access. #AddilynDress #MothersDay"
Those who left comments on the photo largely praised Reformation for cutting a dress that was both flattering and breastfeeding friendly. Many thanked the brand for celebrating, rather than shaming, mothers who breastfeed their babies.
Admittedly, Brothers looks far more glamorous than the average new mom, and Reformation is not immune to beauty norms perpetuated by the fashion industry. That said, Brothers is a real mom who's really breastfeeding, and when one user questioned the ad's authenticity, other Instagrammers jumped in with corrections.
Even as moms of Instagram rose to applaud Reformation for its body positivity, some stood firm in their belief that giving one's child the boob in public is "disgusting."
There's always gonna be that asshole.
Read more: This Mother Did a Photoshoot Breastfeeding Her 2 Daughters and the Images Are Stunning