How 'She Shreds,' a DIY Guitar Magazine, Helped Score a Huge Victory for Female Guitarists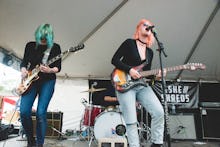 When Fabi Reyna, founder and editor-in-chief of She Shreds magazine, hopped on the phone for an interview earlier this month, she was absolutely breathless.
The 24-year-old editor, who's been combating sexism and misogyny within guitar culture though She Shreds for the past four years, explained she had just heard some amazing news: Guitar World, one of the biggest magazines catering to guitarists and bassists, had just announced its plans to cut the bikini girls out of its annual guitar guide.
"We've been fighting to end that," Reyna said. "Like, that's not relevant and it's destructive to the way people in mainstream guitar culture view women. And they just announced they're getting rid of that issue and that representation of women that they've been pushing for 30 years at least! So this is a huge deal for us."
A quick glance through past gear guides reveals just how glaring the double standard was. You can see male guitarists holding their axes like rock stars, poised to launch into guitar solos rad enough to start the heavenly hosts head banging. 
The women, however, are holding their guitars as if they were clothes, using the headstock to barely cover their breasts or vaginas. Compare these with a typical cover of She Shreds, and you can see how radically different the two depictions of female guitarists are.
This has long been the norm in guitar culture. "The reason I started this magazine was because of that kind of representation and feeling gross, like: 'I don't wanna be half-naked holding a guitar therefore I don't wanna be a guitar player,'" Reyna said.
When she started out playing at 9 years old, Reyna believed there weren't many female guitarists out there, because most of the girls magazines' chose to picture didn't seem to show much interest in actually playing their instruments. But as she got deeper into guitar history — learning about the riot grrrl movement and female shredders like St. Vincent, Kim Gordon and Rosetta Tharpe, one of the godmothers of the electric guitar who's all but been erased from history by its selective and largely sexist lens — she knew she had to try to change this narrative.
"The reason I started this magazine was because of that kind of representation and feeling gross, like: 'I don't wanna be half-naked holding a guitar therefore I don't wanna be a guitar player.'"
"Guitar culture is really just any culture," Reyna said. "You can look at the music industry, journalism, media, drumming culture, producers. It's the same thing in that women have been largely ignored, and not involved and not welcome. Our goal is to introduce a new way of looking at guitars, aesthetically and editorially. Not necessarily for women, but for people. For alternative learners, people of color, anyone who doesn't see themselves represented."
The She Shreds coup: Reyna's magazine has made its presence felt in several ways. They've gone after both advertisers and magazines, pressuring them to rethink the way they reach women through their ads. However, the bulk of their work has been about offering women a safe and supportive platform to tell their stories outside of the usual music magazines.
"They actually see you as real artists, or real people, not as two-dimensional ideas as women are often seen," said Mitski, an artist who's done several features with the magazine and played at its showcase at this year's South By Southwest festival, during a phone interview. "I think giving this publication to women guitarists actually gives them more space to then express what it's like — not just as a woman but as a human being, as an artist, as a professional."
Mitski explained that in almost every interview she does, there's always that inevitable question: "What's the worst thing that ever happened to you as a woman musician?"
"I think it's sensationalism masked in feminism, where at the end of the day what's asked of you is the same thing where they want to know that you're struggling," Mitksi said. "I think at the end of the day, people still want to see women in pain."
She Shreds' editorial strategy has been finding champions in women musicians throughout guitar music. They've done features with St. Vincent, Laura Jane Grace of Against Me! and Satomi Matsuzaki of Deerhoof.
"It's the magazine that I wish I had when I was 15 and learning guitar," Mary Timony of the band Ex Hex said during a phone interview. "I would look at these magazines with the bikini issues and realized I was an outsider. That it was not normal for a woman to pursue guitar seriously. Fabi's doing a great thing and it's about time we had this."
The magazine's fanbase has also been growing, and with it so has its power and ability to hold guitar advertisers and publications accountable for the content they put out.
"If we weren't out here calling people out and telling people: 'Look at how we look, and look how Guitar World looks,' this change would not be happening right now," Reyna said. "That's why places like She Shreds need to exist. You can say you're not going to advertise like that. But if you do, we're going to call you out again, and every day we have much more of an army."