Kelly Ripa Sums Up Why She Deserved to Walk Off 'Live With Kelly and Michael'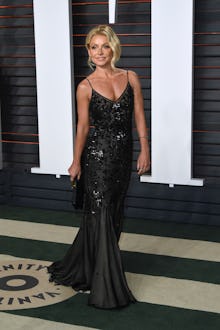 Kelly Ripa earned her fair share of criticism in the past week — but Tuesday morning, she fought back.
Ripa, a 15-year veteran of the Live franchise, learned quite suddenly last week that Live With Kelly and Michael co-host Michael Strahan would be leaving the show to take a permanent spot on fellow ABC program Good Morning America. After the surprise, Ripa walked off her show, and critics quickly labeled her a "diva." 
Read more: Your "Work Spouse" Is One of the Most Meaningful Relationships in Your Life — Here's Why
Yet Ripa didn't use her return as a chance to call her treatment unfair or to lambast Strahan. Instead, she thanked fans for their support and used her platform to call for something relevant and vital: "respect in the workplace."
Ripa was reportedly given the chance to speak her mind without previous vetting of her show-opening monologue, which she delivered standing, with Strahan out of frame. She joked about the off-the-cuff nature of it, saying, "I'm going to be completely honest. I'm fairly certain that there are trained professional snipers with tranquilizer darts in case I drift too far off message."
She called the support she received from fans "overwhelming," and said she walked off because she needed time to collect her thoughts. "After 26 years with this company, I earned the right," she said. "Let's be honest. I know half of you called in sick to be here, so we get each other."
The phrase "the right" was a well-chosen one on Ripa's part — an insistence on being treated fairly by ABC after devoting much of her life to her workplace. She hinted at that greater connection when she called Live With Kelly and Michael "my second home."
"This is a place that I've devoted myself to not just because of you, our loyal viewers, but because of all of the producers and the crew who work on this show," Ripa said. She also emphasized how pleased she was that in addition to having received apologies from higher-ups, "our parent company has assured me that Live is a priority."
Whether it's on a nationally syndicated morning show or in a more traditional office, workplace respect is vital. Research has shown such respect can boost not just employee morale but actual productivity. That Ripa would not only put her foot down for fairer treatment from her employers, but use her platform upon her return to preach the gospel of a workplace that respects its employees, is commendable.
That said, Ripa did cut the tension with a joke, giving everyone some perspective. "I just wanna say one thing," she said. "My dad, who was a bus driver for 30 years, thinks we're all crazy."