Lena Dunham and Gloria Steinem Reveal the Secret to Being a Good Feminist Boyfriend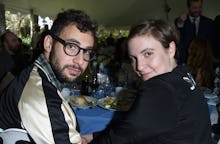 Jack Antonoff — musical partner of feminist woman Taylor Swift and romantic partner of feminist woman Lena Dunham — has unlocked the secret to being a good feminist boyfriend.
At the New York Women in Communications' Matrix Awards on Monday, feminist icon Gloria Steinem presented Lena Dunham with an award. In the process, the pair did an interview with People, in which they gushed about Antonoff's feminist-friendly approach to his relationship.
Here's what Steinem said makes the perfect woke bae:
He's actually a human being. It's a person that knows there are human beings, that each one is unique and there are no groups.
And here are Dunham's two cents:
He never dismisses it when I feel I've experienced something that was gendered or misogynistic. He never dismisses it or plays devil's advocate. He listens to me and lets me figure it out, which I feel lucky about.
That sounds pretty doable! Be an actual human being. Treat your girlfriend like an actual human being. 
It's so simple that it really makes you wonder: Why aren't more men doing it?
h/t People