The 'Harry Potter' Movie Series Ended 5 Years Ago — Here's Where the Actors Are Now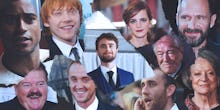 Get the five stories that will challenge you to rethink the world by signing up for MicCheck Daily.
Five summers ago, Harry Potter and the Deathly Hallows: Part 2 ended the beloved magical movie series on a triumphant, wordily-titled note. What began as a story sketched on a train had become an international phenomenon. 
In the process, the story of Harry Potter made a group of formerly unknown child actors into superstars — and elevated the careers of some great English thespians as well. A lot of people were never more famous than as their characters in the Harry Potter movies. Even a dame gets remembered as a witch.
Read more: Here's How Much It Would Cost You to Go to Hogwarts
But how have the stars of the series done in the past five years? For every Emma Watson, who's fashioned herself into both actress and feminist firebrand, there's a Tom Felton, who has consistently worked but hasn't found another signature role. There's also the memory of Alan Rickman, who looms large when talking about the Harry Potter cast. He is missed by cast members and fans alike.
In honor of the movie series ending five years ago this summer, let's answer the age-old question about the top cast members: Where are they now?
In the upper echelon, we have former Potter stars Watson and Daniel Radcliffe, plus veterans Maggie Smith and Ralph Fiennes. Radcliffe benefits a lot from being the former face of the franchise, but he's also been taking some interesting risks. He's done indies and blockbuster franchise movies, taken on queer roles and voiced animated cameos. He even did a TV series with Jon Hamm.
While Radcliffe's refused to rest on his laurels, Smith has zeroed in on why her fans love her, sticking with Downton Abbey until the end and even finding a new film franchise. Fiennes joined a franchise of his own, and earned best-of-career reviews for starring in Wes Anderson's The Grand Budapest Hotel.
As Dean Thomas, Alfred Enoch didn't exactly steal scenes in the Harry Potter series. But Enoch has become one of the series' most surprising successes with his starring role in ABC's How to Get Away With Murder. 
His regular presence on a primetime hit puts him slightly ahead of Matthew Lewis, who has stuck mostly to TV since the end of the series — but is more notorious for growing out of Neville Longbottom's awkward adolescence.
Past them, we have Michael Gambon, also an English TV staple in his post-Dumbledore life, and dwindling cinematic and cultural presences Felton and Robbie Coltrane (Hagrid). But even they have managed more than the bottom rung of the chart: Rupert Grint.
The former Ron Weasley's lack of success, particularly relative to the rest of his co-stars, is all the more jarring when you consider where Watson and Radcliffe rank on this list. They were the three heroes — or at least, one hero with his two equally important sidekicks. Yet Grint hasn't had a fraction of their success outside the Wizarding World — unless you could a couple of critically derided rock music movies as "success."
The key, however, is in how the other two defied expectations, not how Grint succumbed to them. Radcliffe succeeded by tossing off expectations of him even before the series ended. (Remember Equus?) Watson combined a strong public image with a smart résumé, so even when she wasn't working, she was in fans' mind.
Of course, it's only been five years, and Grint is only 27. He's got time — and, hopefully, a little magic left from his Potter days.