Demi Lovato and Nick Jonas Pen Open Letter Slamming North Carolina's "Hateful" HB2 Law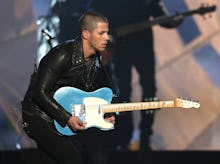 Add Nick Jonas and Demi Lovato to the growing list of entertainers who have canceled their performances in North Carolina in protest of House Bill 2, recently passed legislation that prohibits anyone from using a public restroom that does not fit their biological sex.
The two performers, who are gearing up for their "Future Now" tour have cancelled their Raleigh and Charlotte tour dates in protest, and released a statement on Twitter.
"One of our goals for the tour has always been to create an atmosphere where every single attendee feels equal, included and accepted for who they are," the statement read. "North Carolina's discriminatory HB2 law is extremely disappointing, and it takes away some of the LGBT community's most basic rights and protections."
Jonas and Lovato apologized for disappointing their fan base, but believe that canceling the performances is a step in the right direction. "We know the cancellation of these shows is disappointing to our fans, but we trust that you will stand united with us against this hateful law," they said. 
Jonas and Lovato join a host of performers who have also decided to cancel shows in North Carolina, with the first among them being Bruce Springsteen and the E Street Band. Ringo Starr, Pearl Jam and more have decided to protest the anti-LGBT bill by pulling out of North Carolina as well. 
Read more: PayPal Protests North Carolina's Anti-LGBT Law, Cancels Plans to Hire 400 People In State