Watch Scientists Burn Through Steel Using the Awesome Powers of the Sun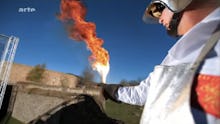 Archimedes is said to have set Roman warships on fire with his death ray during the Second Punic War. Children are said to have set ants ablaze with magnifying glasses during recess. Scientists are now using a similar technique to harness the power of the Sun, only instead of just setting ships or insects on fire, they are burning lots of other shit. 
The world's largest solar furnace is nestled in Odeillo, a commune in the south of France that receives over 3,500 hours of sunshine per year, according to Amusing Planet. 
The solar furnace is made up of 10,000 mirrors, which gather and bounce the sun's rays onto a larger concave mirror, focusing this sunlight onto an area "roughly the size of a cooking pot," Atlas Obscura reported. It can reach temperatures above 3,000 degrees Celsius. Hot damn.
It was built by the National Scientific Research Center in 1969 to study "heat transfer fluid systems, energy converters and the behavior of materials at high temperatures," according to Amusing Planet. And what better way to test the behavior of materials at high temperatures than to set them ablaze?
Like this wood plank, now just dust in the wind.
A hunk of steel? Burned to the core. 
It was left with a fiery hole where its cold metal heart would've been.