Kelly Ripa Reveals the Best $199 She Ever Spent: Her Barney's Warehouse Wedding Dress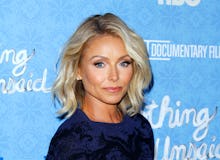 Andy Cohen said it best: In an Instagram photo on Thursday, the late night talk show host posted a throwback photo of himself alongside Live With Kelly and Michael co-host Kelly Ripa declaring her "#MorningQueen."
And he's right. At the bow of the behemoth ship that is Live for over fifteen years, Ripa has established herself as one of the all-time greats of daytime television, ranking among fellow titans including Barbara Walters, Robin Roberts and, of course, her predecessor Kathie Lee Gifford.
Ripa is the algorithm incarnate of a woman both relatable (she smelled Madonna upon meeting her) and aspirational (she vacations on Barry Diller and Diane von Fürstenberg's yacht, for crying out loud). Comedian Guy Branum, a longtime fan of Ripa's summed it up best: "She is honest and funny enough that you never end up hating her for being a famous millionaire with a perfect body," he said in an email.
Read more: Kelly Ripa Sums Up Why She Deserved to Walk Off 'Live With Kelly and Michael'
This morning, during her grand return to the show that catapulted her to stardom, Ripa shared an image from her recent 20th anniversary vacation with husband Mark Consuelos.
"That's my wedding dress," she told the crowd. And guess what — it still fits!" (If that's not a humblebrag, what is?)
Far more surprising is the story behind the dress:
"I bought it at the Barney's Warehouse sale," Ripa explained. "The dress is 25 years old. My marriage is 20 years old. I didn't buy it as a wedding dress. I just bought it because it was really pretty, and I wanted to buy something from the Barney's Warehouse sale. I was working on the soap. I didn't make a lot of money. It was $199 on final clearance sale. 'Do I eat this week, or do I get this dress.' Literally, this was the thought process."
(What were they paying her on All My Children?! Really, though.)
It turned out to be money well spent, with Ripa admitting that she wears the dress constantly, even as a beach cover-up. "It was the best $199 I ever spent in my life," she said.
Ripa isn't the first bride to repurpose her wedding dress. One woman, Cristina, cut and dyed her dress, transforming it into a cocktail dress, while another user on Pinterest downsized her old wedding dress into a clutch. Organizations such as Kent-based charity Cherished Gowns for Angel Babies help turn wedding dresses into burial gowns for stillborn babies or babies who die shortly after birth. 
It's admirable to see a celeb like Kelly not only copping to favoring a less-expensive dress, but also helping debunk the notion that women should shell out tens of thousands of dollars on a couture gown they'll never wear again.
Now on to more pressing matters, like whether or not we'll be getting a Live with Kelly and Anderson.
h/t: People Style