Iggy Azalea Thinks Beyoncé's "Becky" Line From 'Lemonade' Is Racist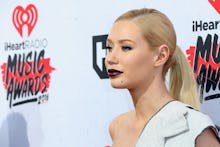 Iggy Azalea is being problematic on Twitter again, but what else is new? The Australian-bred "rapper" is seemingly lashing out against Beyoncé's most viral line off Lemonade, "He better call Becky with the good hair," saying it isn't fair for an influential entertainer to generalize an entire race to her fans.
"Girl, BYE. Do you know how many time ppl have called me BECKY?" Azalea tweeted. "It didn't have any kind of positive intention behind it. Don't start."
"Generalizing any race by calling them one stereotypical name for said race. I personally don't think is very cool, the end.
Azalea's frustration sharply contradicts her previous posts on Twitter, in which she's literally used the hashtag #stereotypes while live tweeting five black men being arrested outside of a Popeye's restaurant. She has also lambasted the Mexican population online, writing, "Is it wrong I feel happy to hear Southern accents again and not Mexican ones? Fuck it. I am." 
She's also used her following of over 6 million users to shame women of all races living in Los Angeles for their body size, with yet another backhanded smack in the face to Mexican women: "Bitches in LA be stick skinny. To the bone. White black, mexican..." Azalea tweeted. "Okay...so maybe not [Mexicans] they still got the box body on lock."
"Dont call all asian women 'ming lee' dont call white women 'becky' dont call black women 'sha nay nay," Azalea tweeted — seemingly forgetting her past offensive and stereotypical tweets about Asian women. 
Problematic tweets aside, Azalea has oft been criticized for her seemingly blatant  and unapologetic appropriation of black culture — something she has trouble acknowledging. 
Iggy, just stop. Stop it right now.
Read more: Iggy Azalea Wants You to Know She Doesn't Hate Black People, She Just Hates Azealia Banks