Model Leomie Anderson Wrote a Powerful Letter About the Importance of Sexting and Consent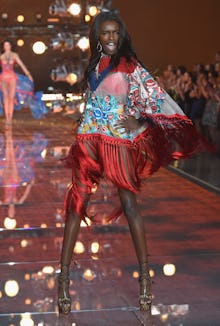 23-year-old British model Leomie Anderson penned an open letter to her young fans about selfies, sexting and consent. Her powerful message reinforces not only the importance of young women not giving into peer pressure, but also the idea that young women have full control over their own sexuality. 
In her blog post, Anderson, who models for Victoria's Secret, wrote that while consenting to taking sexy photos is a huge part of her job, she has always had the option of turning to her agency for support if she ever felt uncomfortable taking a certain photo. 
But, Anderson wrote, teenage girls don't always have that option. 
"I know so many girls who felt pressured into sending a picture or doing something with a boy because they liked him or believed him when he said he wouldn't show or tell anybody," Anderson wrote. 
Instead of actively discouraging teens from sexting, Anderson stressed how important it is for young women to consider their own desires and that their image might be shared without consent. 
"Saying no doesn't make you scared or frigid; it makes you smart and mature — you never want someone to be able to hold something against you or expose you," she wrote.
Sexting has already become an integral part of the teenage dating experience, with a 2014 study determining that 54% of teenagers had sexted before they turned 18. A 2015 Pew Research Center report estimated that 35% of teen girls have had to block or unfriend someone on social media for flirting in a way that made her feel uncomfortable. 
In her new book about teenage girls and social media, American Girls, author Nancy Jo Sales describes teens struggling to navigate "a hypersexualized culture that has normalized extreme behavior, from pornography to the casual exchange of nude photographs; a culture rife with a virulent new strain of sexism and a sometimes self-undermining notion of feminist empowerment." The fact that teenage girls often see nude selfies celebrated as sex-positive or empowering further heightens the pressure to send such photos. 
Most anti-teen sexting campaigns typically warn teenage girls against the dangers of sexting, urging them to abstain from it entirely instead of promoting the importance of mutual respect and consent. Anderson's letter is so powerful because it doesn't rely on finger-wagging; she simply advises young fans to stay true to themselves, maintain their own boundaries and not bow to any external pressure. 
"All my young girls reading this, know that you don't have to do anything that you aren't fully comfortable with," Anderson concludes her post, "and that your no means something."
h/t Glamour