Pennsylvania Democratic Primary 2016: Hillary Clinton Crushes Bernie Sanders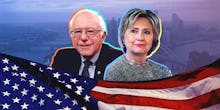 #FeelTheBern? More like feel the burn.
Democratic presidential frontrunner Hillary Clinton decisively beat Bernie Sanders in the Pennsylvania primary on Tuesday, nabbing the evening's richest delegate prize and proceeding on her march to the party's nomination.
The Associated Press called the race for Clinton at 9:01 p.m. Eastern, just more than one hour after polls closed.
Clinton's victory comes eight years after she bested then-Sen. Barack Obama in the state by 10 percentage points. But while Pennsylvania bucked the national trend in the 2008 race, the outcome on Tuesday dovetailed with the direction of the 2016 contest.
Read more: 2016 Primary Results: Who's Winning Every Democratic and GOP Race in April 26 States
With 189 pledged delegates at stake, the Keystone State will pad Clinton's substantial delegate advantage over Sanders, whose campaign was badly bruised by his crushing defeat in last week's New York primary.
Heading into Tuesday, Clinton needed to win only 28% of the remaining delegates up for grabs to reach the 2,383 delegate majority required to clinch the Democratic nod.
With Clinton's wins in Pennsylvania and another projected victory in Maryland on Tuesday, Sanders' climb to victory is now even steeper.
The Vermont senator had hoped that his opposition to free agreements and advocacy for greater economic equality would break through in Rust Belt states like Pennsylvania, but he proved unable to pull off a repeat of his upset victory in the Michigan primary.
In her victory speech from the Philadelphia Convention Center on Tuesday, Clinton appealed to Sanders' progressive corps of supporters, with an eye toward uniting the Democratic base ahead of the general election.
"I am aware that too many people feel like they are at the mercy of forces too big for anyone to control and they just worry that those of us in politics put our own interests ahead of the national interests," Clinton said, in a nod to the popular discontent Sanders' campaign has tapped. the faith that we can make things better, that we can give our kids a better future than we had is at the heart of who we are as a nation.
"I applaud Sen. Sanders and his millions of supporters for challenging us to get unaccountable money out of politics and greater emphasis to closing the gap of inequality and i know together we will get that done," Clinton continued. "Because whether you support Sen. Sanders or you support me, there's much more that you unites us than divides us," she said, citing issues like inequality, climate change, civil rights and college affordability.
The Democrats' next big contest comes on May 3, when voters in Indiana head to the polls.