Working the Graveyard Shift Might Actually Send You to the Grave Sooner, Study Says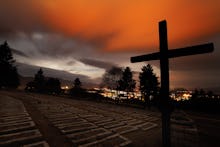 Working the dreaded graveyard shift might literally send you to the graveyard, according to new research published in the Journal of the American Medical Association.
Researchers studied 189,000 registered female nurses who reported on their schedules for a period of 24 years starting in 1988 and 1989, reported Science Daily. They found that among those who worked more than 10 years of rotating night shift work — a schedule particularly common in hospitals — the risk of developing some form of coronary heart disease was elevated 15 to 18 percent.
Read more: How This Pig Heart in a Baboon Body Could Save Your Life
The takeaway? Night work can contribute to a worker's chances of becoming one of the millions of Americans who have a heart-related health problem. According to the Centers for Disease Control, roughly 610,000 people die of heart disease annually, accounting for one in four deaths. CHD makes up more than half of that grim tally, killing 370,000 people annually.
"There are a number of known risk factors for coronary heart disease, such as smoking, poor diet, lack of physical activity and elevated body mass index," lead author and Channing Division of Network Medicine epidemiologist Celine Vetter said, according to Science Daily.
"These are all critical factors when thinking how to prevent CHD," Vetter continued. "However, even after controlling for these risk factors, we still saw an increased risk of CHD associated with rotating shift work. Even though the absolute risk is small, and the contribution of shift work to CHD is modest, it is important to note that this is a modifiable risk factor, and changing shift schedules may have an impact on the prevention of CHD."
h/t Science Daily