Driver Causes Major Accident While Trying to Use a Snapchat Filter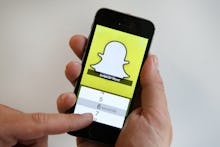 There's a Snapchat filter that shows you how fast your phone is moving. This can be fun when you're running or on a train, but dangerous if you're behind the wheel of a car.
A driver trying to attain a high speed on Snapchat is allegedly to blame for a car accident outside of Atlanta, Georgia, that left a victim with "traumatic brain injuries," CNN reported. 
The driver, Christal McGee, was driving 107 mph at the time of the collision on September 10, 2015, going over the speed limit "in order to obtain recognition through Snapchat by means of a Snapchat 'trophy'", according to the issued complaint. 
According to a statement from the law offices of Michael Lawson Neff, McGee said she was "Just trying to get the car to 100 miles per hour to post it on Snapchat."
According to the complaint, McGee's Mercedes struck a Mitsubishi being driven by Maynard Wentworth, leaving Wentworth with "permanent brain damage." 
Maynard and his wife are suing both McGee and Snapchat for medical bills incurred as a result of the accident, CNN reported. Maynard, an Uber driver at the time of the car accident, now relies on a walker or wheelchair. 
If you haven't seen Snapchat's speed filter, here's what it looks like in action: 
This isn't the first time: McGee isn't the only person to face reckless driving charges as a result of Snapchat — a teen in Washington got into a rollover car crash while using FaceTime and Snapchat behind the wheel. New evidence also points to Snapchat as the possible cause of a car crash in Philadelphia that left three young women dead. 
The complaint issued against McGee also cites an accident in Brazil in which a woman wrecked her car while documenting herself driving 110 mph on Snapchat. The woman snapped a photo of the speedometer prior to the collision with the caption "180 KM LMAO" — 180 kilometers per hour equates to 112 miles per hour, just five miles more than the speed McGee was driving when she hit Wentworth's car. The woman in Brazil continued to snap the accident following the impact, posting bloody selfies with the captions translating to "HELLLLLLLLLPPP" and "we overturned the car". 
McGee also took a Snapchat following her accident, according to Peagler's statement, snapping a photo of herself in the ambulance with blood on her face with the text, "Lucky to be alive."
You've been warned: It's no wonder injury attorneys are warning parents about the dangers of Snapchat's speed filter and Facebook groups like Mothers Against Snapchatting While Driving are being created. There are also some grim anti-snapchat-while-driving ads, showing users the deadly consequences of snapping behind the wheel.   
This issue is just an extension of the existing problem of texting and driving, only with the Snapchat speed filter, there's another thing tempting users to push the pedal to the metal. 
Snapchat does reportedly display a warning not to snap and drive on its speed filter as well as remind its users to not use its services "in a way that would distract you from obeying traffic or safety laws" and to "never put yourself or others in harm's way just to capture a Snap," but this warning is buried in its Terms of Service. Maybe it should give a trophy for reading that. 
April 27, 2016, 12:22 p.m.: This article has been updated to clarify that Snapchat includes include a warning not to snap and drive on its speed filter.