Wintersleep's Heartbreaking "Amerika" Uses a Donald Trump Speech to a Devastating Effect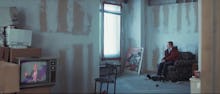 There are few things more terrifying to many people in this country than a Donald Trump presidency. 
The way that the hand-conscious Republican frontrunner has been able to create a political platform largely out of xenophobic and insensitive rhetoric is a story straight out of an Orwell novel. His "Make America great again" speeches are enough to give even the proudest champions of American democracy pause.
Read more: This Remix of Kesha's "Die Young" Captures the Anguish of Being a Sexual Assault Survivor
A clip from one such speech is all it takes for indie band Wintersleep to evoke a blank, ominous sense of foreboding in their video for their latest "Amerika," which Mic premieres today.
Yet the video isn't explicitly political. "Amerika," which has been No. 1 on Canada's rock charts for six weeks,  is no "FDT." Trump's visage in the film is a texture, a metaphor, and it works in concert with the rest of the video's evocative images to capture a feeling of what it's like to face an uncertain future.
"To me it feels like the best sci-fi novels," Paul Murphy, Wintersleep's lead singer and songwriter, said in a phone conversation Monday. "They evoke something that's happening in your regular society. However, there's a suspension of disbelief that makes it more palatable in a way. It feels a little more alien than a direct representation of the lyrics."
The main inspiration for those lyrics is a Walt Whitman poem "America." Pieces of it appear in the chorus, but they're twisted in such a way to suggest a disconnect between the country's original values and where we stand today. "Are you alive, oh my Amerika?/ Perennial with the Earth/ And freedom, love, and law, and life," Murphy sings, nodding to the poem, before adding his own twist: "My freedom, I don't wanna die."
"The song made me think of civilizations that have come and gone in a way," Scott Cudmore, the video's director who also wrote its opening poem, said in an email statement. "Nations that have fallen from a kind of 'golden age.' So the opening reflects that idea. And Trump does too. But to me the video isn't explicitly political. It's about people and how we connect with one another, especially if we recognize that our time is finite."
Watch the video below.