2016 Pennsylvania Republican Primary: Donald Trump Demolishes Kasich and Cruz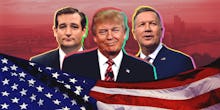 It's another key win — this time in the Keystone State — for Republican Donald Trump.
The billionaire businessman cleaned up in Pennsylvania's GOP primary Tuesday, thumping rivals Ted Cruz and John Kasich in yet another big contest.
Read more: Donald Trump Hits 50% National Support Among Republicans, New Poll Finds
The Associated Press called the race for Trump, along with the Connecticut and Maryland primaries, when polls closed at 8:00 p.m.
Exit polling had GOP voters expressing sentiments that fit well with Trump's messaging, including a sense of being sold out by Republican politicians.
Read more: 2016 Primary Results: Who's Winning Every Democratic and GOP Race in April 26 States
Trump's win in Pennsylvania comes as he continues what he says will be a successful slog to securing the backing of the 1,237 delegates he needs to win the GOP nomination outright.
Ahead of Tuesday's voting, Trump had tallied 845 delegates, while Cruz had 559 and Kasich had 148, per RealClearPolitics stats.
Pennsylvania was the big prize in the latest round of voting: The state will send 71 delegates to Cleveland for July's Republican National Convention. Also voting Tuesday: Connecticut, Delaware, Maryland and Rhode Island, for a grand total of 172 GOP delegates.
Of Pennsylvania's delegates, just 17 go to the state's top vote-getter, while the balance of 54 are not bound by the results.
That's been a sore spot for Trump, who's railed for weeks against what he calls a "rigged" RNC system of choosing a nominee — even as his team dispatched top dogs Paul Manafort and Rick Wiley to woo delegates at the party's Spring Meeting in Florida last week.
A NBC News/Survey Monkey weekly tracking poll released Tuesday found Trump hitting the critical 50% national support benchmark among registered Republicans and those who lean toward the GOP.
The race is far from over — California, with 172 delegates, doesn't vote until June 7 — the results suggest Trump has made some inroads in courting skeptics within the party.
Still, Trump has a lot of work to do: Exit polling of Pennsylvania GOP primary voters conducted Tuesday for the AP showed that "while over a third would be excited by [a] Trump Administration, the idea scares a quarter of voters. Few voters have extreme emotions about Cruz or Kasich."
Next up for the GOP is the May 3 Indiana primary, with 57 delegates up for grabs.