These Are the African Designers You Probably Don't Know About — But Should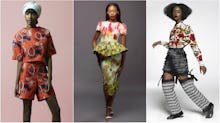 Last year Nigerian-English grime music pioneer Skepta joined Drake to remix afropop sensation Wizkid's single "Ojuelegba," rapping "When I was in school being African was a diss/ sounds like you need help saying my surname Miss." This unguarded admission of otherness was no doubt relatable to those who have been in a similar position.
But these days a new generation of creatives on the continent and across the diaspora is challenging outdated stigmas about being African. They are sharing art, fashion and music that facilitates self-directed dialogues about their backgrounds and experiences. More important, they're doing from a personal and authentic point of view. 
Read more: Thanks to Instagram, African Art Is Finally Getting the Spotlight
African fashion in particular is having a global moment, and retailers are taking notice. Labels such as Mango have responded by attempting to project a more multicultural identity. However poorly received efforts like the Kendall Jenner-fronted "Tribal Spirit" campaign for Mango only illustrate the importance of allowing the real people behind the inspiration to lead the conversation.
Talented makers like Loza Maléombho have been doing exactly that. The Ivorian designer even caught the eye of Beyoncé, who went on to feature the her latest collection in the politically charged "Formation" music video. 
That's only one of many labels dedicated to bringing a more multicultural point of view to the often-insular fashion industry. Here are 12 African labels you should get to know.
Osei Duro 
Former classmates Maryanne Mathias and Molly Keogh launched Osei Duro in 2009 after becoming fascinated with Ghana's textile industry while traveling the country. Though neither are of African descent, both felt there was a unique opportunity to align themselves with a network of local artisans who wanted to bring their skills to a larger audience. 
These days, the duo are based in Accra's East Legon area, churning out seasonal collections that are carried in boutiques like Opening Ceremony and Creatures of Comfort. "When we were originally planning to come here [Ghana] we wanted to work with co-ops and smaller artisans. It was really important to us to support smaller scale businesses," Mathias said in an email.
Though the brand has grown tremendously in the past few years, Mathias and Keogh continue to focus on small-scale production and traditional methods that support the slow-made processes that have been replaced by the fast fashion cycle. From hand-dyed patterns to traditional wax prints, Osei Duro embodies a refreshing blend of laid-back California style and a uniquely Ghanaian aesthetic.
Loza Maléombho
You may or may not recognize designer Loza Maléombho's clothing from Beyoncé's "Formation" music video. Garments from the SS16 collection, inspired by traditional masks from Cote d'Ivoire's Northern region, were front and center in more than a few scenes.
The label first launched in 2009 in New York before Maléombho moved production to her childhood home of Cote d'Ivoire in 2012. Born in Brazil and raised in the United States and Cote d'Ivoire, Maléombho's work is informed by the spirit of multiculturalism and an appreciation for the histories and subcultures of every place she's ever lived. It's an incredibly heady infusion that never repeats itself.
Maki Oh
First lady Michelle Obama, Beyoncé and Rihanna are a few of the high-profile names who have been spotted in Lagos-based Amaka Osakwe's label Maki Oh. She founded the line in 2010 and quickly became among the first Nigerian brands to attain global recognition. In 2012, Osakwe made her New York Fashion Week debut, garnering warm reviews. The New York Times even praised her collection for utilizing skill sets that were being forgotten. 
"It is left to creative and artistic designers like Amaka Osakwe, behind the Maki Oh label, to revitalize dying skill," the Times wrote. "She found a Nigerian woman believed to be the last person using the traditional handwork process of making adire, a fabric with an indigo-dye pattern. The designer reinvented the method, using silk instead of cotton, to create her own prints that she then mixed with silken fringing."
Osakwe's interest in traditional dye and textile-making methods are really what set her collections apart. Most of her garments are hand dyed and use natural ingredients like indigo leaves and other plant-based byproducts. Osakwe also frequently inserts historical dialogues into her collections and has designed clothing around regional coming-of-age ceremonies in Ghana, and traditional funeral ceremonies in Nigeria. 
Brother Vellies 
When Brooklyn, New York-based creative Aurora James started Brother Vellies she had the simple goal of introducing people to her favorite African footwear. James's first shoe silhouette was the veldskoen, which is essentially a forerunner to the desert boot. After an overwhelmingly positive reception, James began exploring other ways to update little-known styles and share them with the world. 
Today, Brother Vellies operates a small-scale production model out of its workshop in South Africa. Each day a handful of master craftspeople make a few dozen pairs of shoes which are then shipped around the world. 
If there was any doubt that Italy, England and Portugal aren't the only places artisanal shoemaking can happen, Brother Vellies is proving the naysayers wrong. 
Raffia
When Maddona Kendona-Sowah noticed that Northern Ghanaian textiles were often neglected by other designers she decided to solve the problem herself. In 2013 she founded Raffia, a line that combined her economic development background with her fashion aspirations. 
Today the label produces collections that utilize regional textiles to educate others about the traditions of Northern and Upper Eastern regions of Ghana. Even the name Raffia is an ode to Kendona-Sowah's childhood in the North. The area's dry climate reminded her of the raffia palm before it has been processed for use.
Studio 189
Actress Rosario Dawson teamed up with Abrima Erwiah to conceptualize Studio 189, a far-reaching fashion platform that is creating a space for slow-fashion and specialty craft. Though based in Accra, Ghana, the label sources items from all over the continent, including mud cloth from Mali and wax prints from Nigeria. 
At the heart of the brand is community, sustainability, and a belief that fashion can be used to spark large-scale social changes. Since its founding in 2011, Studio 189 has collaborated with Vogue and also founded the Fashion Rising collection, launched in support of One Billion Rising, an initiative that aims to end violence against women.
Chemphe Bea 
Designer Emily Okoampah founded Chemphe Bea in 2010 while studying fashion design in London. Okoampah's designs often call on brightly colored wax print fabrics which she combines with textiles like silk or taffeta to create unexpected textures. 
She also frequently experiments with draping to create figure flattering garments for all body types. Okoampah's clothing was featured in the first season of the web series An African City after she caught the eye of the show's creator, Nicole Amarteifio. 
Christie Brown
Aisha Ayensu's label Christie Brown finds the sweet spot between modern and traditional with its contemporary-leaning aesthetic and well-articulated point of view. Each collection taps into trends ranging from military-influenced styles to the voluminous sleeves and puffed skirts popular in the '80s. 
Yet even while experimenting with a bevy of references, Ayensu's success in juxtaposing trend-right details with traditional fabrics manages to subtly tie in her identity as a modern African woman and situate her collections in the now.
Korlekie 
Korlekie is the brainchild of former London College of Fashion student Beatrice Korlekie Newman. The semi-eponymous label comes from Newman's middle name, which she inherited from her father who is of the GA-Adangbe tribe in Ghana's Eastern region. Roughly translated "Korlekie" means "queen of eagles", indicating a majesty Newman felt was present in her brand. 
The collection melds traditional UK manufacturing techniques with hand-knitted details, heavy beadwork and hand-placed embellishments that pay homage to Newman's African background. Since its founding in 2012, Korlekie has appeared on celebrities like Rita Ora and Ellie Goulding and has been featured in Vogue and Elle.
Sindiso Khumalo
Botswana-born, South African womenswear designer Sindiso Khumalo wasn't always going to work in fashion. In fact, she studied architecture at the University of Capetown before relocating to London to work with award-winning Ghanaian architect David Adjaye. In London, Khumalo eventually enrolled in prestigious fashion school Central Saint Martins where she studied textile design. 
She founded her label in 2012 and was shortlisted for Elle's "Rising Star" awards that very same year. One year later, in 2013, one of her dresses was awarded "Most Beautiful Object in South Africa" by Design Indaba Capetown. 
In 2015, Khumalo went on to receive Vogue Italia's "Who Is On Next?" award in Dubai. Her architecture background is often reflected in clean silhouettes and precise textile patterns offset by bright, playful colors. 
Lisa Folawiyo
Nigerian designer Lisa Folawiyo founded her now-eponymous label in 2005 under the name "Jewel by Lisa." She is among the first wave of African fashion designers to achieve international acclaim. Although many of her designs use traditional West African textiles, Folawiyo's ability to find the intersection of history and the contemporary give her garments a global appeal and timelessness that has caught the eye of luxury retailers like Moda Operandi and Selfridges. 
As the best stories often go, Folawiyo began her career with no traditional fashion background — she actually studied to be a lawyer. Despite this, she went on to win the African Fashion Awards in 2012 and is currently among The Business of Fashion's #BoF500. The comprehensive list encompasses global creatives who are shaping the fashion industry today.
Lanre Da Silva Ajayi
Hailing from Lagos, Nigeria, designer Lanre Da Silva Ajayi's calls upon the country's history of tailoring to produce delicate, feminine garments that are reminiscent of the 1940s and '50s. Ajayi began her career as a banker, but after spending much of her spare time designing clothing for herself and her family, decided to transition into fashion design full time. 
Since then, Ajayi has collaborated with Dutch wax print fabric behemoth VLISCO on special campaigns, and also shown at the Arise Made in Africa New York Fashion Week presentation. 
These 12 labels are doing far more than offering up gorgeous clothing — although we have more than a few pieces on our wish list. Their influence is globalizing the fashion industry and reminding fashion editors, retailers, stylists and shoppers that cutting edge fashion exists outside of the New York, Paris, London and Milan circuits.