Brooklyn Hipsters Celebrate Hindu Festival And It Definitely Isn't Cultural Appropriation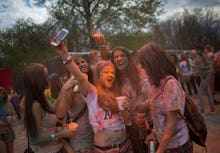 An article published in Brokelyn on Tuesday sheds light on a longstanding issue:
Is it cultural appropriation when a group of white Brooklynites drink Tecate tallboys, blast colorful powder at each other and call it Holi, the Hindu festival of spring?
Every year since 2012, the "Festival of Colors," as Holi is popularly known, has been held in the New York City borough. 
The organizers' Facebook page describes the DJ-fueled annual party — peopled with GoPro- and Rastacap-wearing hipsters, according to the report — as "a joyous celebration of the coming of spring" where "social barriers collapse, and all are united in joyful celebration."
"I saw it on Eat Pray Love and I was like, 'I gotta go to this,'" one festival-goer told Brokelyn. "I thought I had to go all the way to India to do it, but then they did it here."
The Brokelyn article likens the environment in Bushwick this weekend more to Coachella — the debauchery-filled Indio, California, music and arts festival with a reputation for drug-addled festival goers rocking bindis and Native American warbonnets as they sway to EDM — than the hallowed South Asian holiday from whence it originated.
When asked if they were there for the religious aspects of Holi, two attendees reportedly shook their heads at Brokelyn reporters while one shouted, "I just wanna get colored!"
Is borrowing from another culture a bad thing?
Reveling isn't the problem — Holi is supposed to be about fun, after all. But this sort of decontextualized adoption of an ancient religious celebration has offensive implications that are difficult to avoid.
First, are revelers actually doing it right? 
"Just because you throw colored powder around doesn't mean you are celebrating Holi," Priya Patel, an Indian-American Brooklyn resident, told Brokelyn.
Patel also commented on the lack of diversity in the crowd. 
"It's hard," she added, "because on the one hand I feel like it's more in line with the spirit of the holiday to be fine and happy with even appropriated events, because it's at least attempting to spread the intended message. But damn, there's a lack of brown in those crowds."
Rahul Verma at the New Statesman pointed to the Berlin-based company Holi Festival of Colours, which hosts an annual version of the Holi festivities in 20 countries around the world, as an example of the problem. 
"Clearly rave and festival-style Holi events for non-Hindus are massive business," he wrote, "and there's a demand, but it feels uncomfortable that a trio of Europeans ... with little understanding of Holi's religious, cultural or social dimensions, are touring a loose approximation of Holi (yet trading off its name) around the world to make loadsa money."
There are deeper reasons why Holi is so big in India. 
The Society for the Confluence of Festivals in India describes Holi as an ancient Hindu religious festival — dating to several centuries before Christ — meant to celebrate the triumph of good over evil and the arrival of spring. 
It is celebrated in different ways depending on the region of the country, but aside from its signature powder-throwing revelry, it is often accompanied by a key ritual.
About 40 days before the festivities start, a log is placed in a prominent public place for people to throw twigs and other kindling on. By the night before, the pile has grown to bonfire-size proportions, and is set ablaze as a way to cleanse the area of evil spirits.
But in Brooklyn, it's more about the turn up.
The Holi NYC organizers did not immediately respond to Mic's request for comment about the celebration's revenue, or about appropriation. But co-founder Jack Langerman, who is white, addressed the cultural complications of his baby at Brokelyn.
"I understand, given the fact that I'm not Hindu, I'm some white kid who grew up in New York. I understand why that's bothersome," he said. "All I can say is, Hindus figured out the best way to celebrate spring. ... Maybe I'm not the right guy but I'm the guy who's doing it."
You be the judge, America.
h/t Brokelyn