2016 Primary Results: Who's Winning Every Democratic and GOP Race in the April 26 States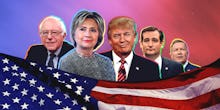 One week after their landslide victories in New York cemented their statuses as the Democratic and Republican presidential frontrunners, Hillary Clinton and Donald Trump are poised to further distance themselves from their primary rivals on Tuesday night.
With voters headed to the polls in Pennsylvania, Connecticut, Maryland, Delaware and Rhode Island, the so-called Acela Primary is likely to prove a delegate treasure trove for Clinton and Trump.
Read more:
Polls show Trump dominating Ted Cruz and John Kasich in all five states, but his margin of victory and his total delegate haul the main outstanding questions. Robust performances on Tuesday will bring Trump closer to the 1,237 delegate majority required to clinch the GOP nod before the party convention in July.
Meanwhile, Clinton is securely ahead in Pennsylvania and Maryland, with polls showing closer races in the other three states. But she only needs to win about 28% of the remaining delegates up for grabs to overtake Bernie Sanders, so Tuesday's primaries are certain to hasten Clinton's march to the Democratic nomination.
Follow along as Mic keeps tabs on the night's latest developments. All times are Eastern.
11:05 p.m.: Bernie stops just short of admitting he won't win.
Following a disappointing performance Tuesday night, Sanders released a statement in which he effectively conceded he would not emerge as the Democratic nominee, but vowed to forge on through the final contests in June.
Sanders' goal, his statement indicated, is to continue pushing the Democratic Party leftward.
"[T]his campaign is going to the Democratic National Convention in Philadelphia with as many delegates as possible to fight for a progressive party platform that calls for a $15 an hour minimum wage, an end to our disastrous trade policies, a Medicare-for-all health care system, breaking up Wall Street financial institutions, ending fracking in our country, making public colleges and universities tuition free and passing a carbon tax so we can effectively address the planetary crisis of climate change," Sanders said.
Hinting that he'd ease up his attacks on Clinton, the senator said, "I look forward to issue-oriented campaigns in the 14 contests to come." — Luke Brinker
10:36 p.m.: Trump: "If Hillary Clinton were a man, she'd get 5% of the vote."
Wrapping up his meandering press conference, Trump riffed on his chances against Clinton in the fall, then wandered into some dicier territory that we can expect to see until November.
"If Hillary Clinton were a man, she'd get 5% of the vote," Trump declared, channeling some alternate universe in which Clinton is someone else entirely.
"The only thing she's got going is the women's card," he said. "The beautiful thing is women don't like her."
Only a few more months til the election! — Stefan Becket
10:35 p.m.: Clinton takes Connecticut, going four for five.
10:32 p.m.: Trump is...still speaking.
After showing up to Trump Tower almost an hour late, Trump has been holding forth before reporters for over a half hour now, giving his assessment of the state of the race and a sprawling overview of how he got where he is now.
We're still streaming on Facebook here: — Stefan Becket
9:45 p.m.: Clinton sounds ready for the general election.
Speaking in Philadelphia before a crowd of supporters fired up by her victories in at least three states, Clinton sounded both at ease with the nomination race and focused on a pivot toward the general election.
"We will unify our party to win this election and build an America where we all rise together, an America where we lift each other up instead of tearing each other down," Clinton said, after saying she hoped to return to Philadelphia for the Democratic National Convention in July to accept the party nomination.
Promising to build on a liberal tradition from "Franklin Roosevelt to Barack Obama," Clinton emphasized both her progressive policy stances and her hard-nosed pragmatism as an asset to her party.
"We're setting bold progressive goals backed up by real plans that will improve lives," Clinton said. "After all that is how progress gets made — we have to be both dreamers and doers," Clinton said.
Clinton applauded Sanders for the issues he's turned into major Democratic priorities through his candidacy, namely campaign finance and economic inequality, and made it clear that in the end they were on the same team. "There's much more that unites us than divides us," she reminded her supporters.
Clinton made it clear that ultimately Republicans, whom she described as a dire threat to everything from women's reproductive rights to the right to vote, were far more dangerous than any intra-party disagreements.
At the moment, it seems most Democratic voters agree — she's the party's best hope to deny them the White House. — Zeeshan Aleem
9:43 p.m.: Watch Trump speak live.
With the GOP frontrunner expected to speak from Trump Tower at any moment, watch our colleague Celeste Katz's Facebook livestream of the candidate's victory speech here. — Luke Brinker
9:13 p.m.: Sanders wins Rhode Island.
It won't be a clean sweep for Clinton, after all, with the AP calling the Ocean State for Sanders at 9:11 p.m. — Luke Brinker
9:05 p.m.: Clinton wins Pennsylvania.
The AP called the race at 9:01 p.m., delivering Clinton her third victory of the night. — Luke Brinker
9:00 p.m.: How Clinton won Maryland
The final results on Maryland aren't in yet, but exit poll results suggest a significant margin of victory for Clinton, who had a commanding performance across demographic groups.
Clinton not only trounced Sanders among women 67% to 31%, but she also bested him with men 54% to 42%.
Clinton performed far better than Sanders with voters over the age of 45, as she typically does, but she also captured the more highly contested 30- to 44-year-old cohort, beating Sanders 55% to 44%. The only age group Sanders won was voters between the ages 17 to 29, whom he swept 72% to 26%.
Unsurprisingly, Clinton handily beat Sanders among black voters, who made up a plurality of Maryland's Democratic electorate on Tuesday, 73% to 25%. But she also fared much better with white voters, 54% to 42%.
Maryland seems like a pretty clean sweep for Clinton. — Zeeshan Aleem
8:40 p.m.: Clinton wins Delaware.
The former secretary of state claimed her second state of the night after a victory in Maryland, with the AP calling Delaware for her at 8:38 p.m. — Luke Brinker
8:35 p.m.: Trump sweeps the night, taking Delaware and Rhode Island.
After Trump notched wins in Pennsylvania, Maryland and Connecticut, the AP called the remaining states for Trump at 8:34 p.m. — Luke Brinker
8:20 p.m.: Sanders speaks in West Virginia, and argues he's better positioned to face Trump in November.
Speaking just minutes after Maryland was called for Clinton, Sanders did not sound discouraged in the slightest while addressing a fervent crowd of his West Virginia supporters. Instead, he reminded them of the hundreds of delegates he's secured in the race so far, and emphasized his viability as a contender in the general election.
"If the Democratic Party is to look at which candidate is the candidate to defeat Donald Trump or any other Republican, what we are seeing are national polls which have us 15, 20 points ahead of Donald Trump, far more than Secretary Clinton," Sanders bellowed.
Sanders attributed his superior performance in head-to-head polls against Trump to his appeal to citizens beyond the conventional Democratic base.
"The reason that we are doing so much better against Republican candidates is that not only are we winning the overwhelming majority of Democratic votes, we're also winning independent votes and some Republican votes as well," he said.
He took the opportunity to remind the crowd that while millions of voters who weren't registered with the Democratic or Republican Party were unable to participate in New York's primaries last week, they will be voting in the general election. "The [general] elections are not closed primaries," he warned.
Sanders' camp has admitted that if he lost badly in Tuesday's contests he would have to reassess his campaign strategy. But there are no signs that the reassessment will mean dropping out anytime soon. — Zeeshan Aleem
8:00 p.m.: Trump takes three states, and Clinton wins Maryland.
That was fast.
Polls just closed, and Trump is projected to win Pennsylvania, Maryland and Connecticut. The Associated Press projects Clinton will win in Maryland, where 95 delegates are at stake: — Stefan Becket
7:53 p.m.: The candidates are already looking ahead to upcoming states.
The candidates on both sides are already looking ahead to the next primary states, while Trump is staying put in New York.
Trump will speak from Trump Tower in New York, slated for 9 p.m. Follow our colleagues Celeste Katz and Jon Levine on Twitter who are on the scene, and tune into our Facebook page for a live broadcast from the press conference a bit later on.
Clinton will speak to supporters at the Philadelphia Convention Center. Earlier in the evening she was in Indiana, where she toured a factory and spoke to employees:
For his part, Sanders is in West Virginia, where Democrats go to the polls on May 10. His appearance will be streamed here:
Cruz didn't even wait until polls were closed before addressing the night's expected results. He's currently speaking in Knightstown, Indiana, arguing that the race isn't over and blaming the media for saying the Republican primary race is a done deal. Indiana is considered a must-win for Cruz if he hopes to prevent Trump from reaching 1,237 pledged delegates before the convention.
"Tonight, this campaign moves back to more favorable terrain," Cruz said.
It's unclear what Kasich has planned for the evening. He had previously scheduled a watch party in Indianapolis, but canceled that event after striking an agreement with the Cruz campaign not to contest Indiana. — Stefan Becket
7:40 p.m.: Exit polls point to solid victories for Trump and Clinton in Pennsylvania.
Preliminary exit polls suggest the two frontrunners are in for a good night in Pennsylvania, the richest delegate prize of the evening.
Exit poll data analyzed by ABC News show Trump to be the most popular Republican by far in the Keystone State, with 56% of primary voters saying they'd definitely support him if he were the nominee, compared to only 29% for Kasich and 25% for Cruz.
Meanwhile, a majority of Pennsylvania Democrats want the next president to continue President Barack Obama's policies, while only about 30% want a more liberal approach — portending ill for Sanders' progressive insurgency, and suggesting that Clinton's message of continuity will reap dividends. Democratic voters also saw Clinton as a more viable general election candidate, per ABC. — Luke Brinker