Donald Trump Just Sucker-Punched the #NeverTrump Movement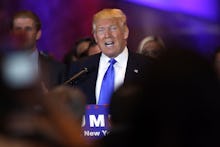 "I consider myself the presumptive nominee, absolutely," a triumphant Donald Trump proclaimed at his eponymous tower on Tuesday night, after routing his Republican rivals in five Mid-Atlantic primaries.
The nod may not be Trump's just yet — either presumptively or formally — but the scale of his victories dealt a devastating blow to the #NeverTrump movement, a conglomeration of establishment Republicans and conservative purists horrified at the prospect of his nomination.
Read more: 2016 Primary Results: Who's Winning Every Democratic and GOP Race in April 26 States
Trump didn't just win Pennsylvania, Connecticut, Maryland, Delaware and Rhode Island. He thoroughly dominated in each state, winning a majority of the vote against John Kasich and Ted Cruz and putting the lie to the notion that the real estate magnate would run up against a hard ceiling once the Republican field winnowed.
With final results still coming in Tuesday night, Trump was raking in about 59% of the vote in Connecticut, 61% in Delaware, 57% in Maryland, 58% in Pennsylvania and 64% in Rhode Island — outperforming his final poll numbers by an average of more than 8 percentage points in the five states, per data from RealClearPolitics.
The number that should frighten #NeverTrump-ers: Trump will end the night with upward of 950 delegates, up from 845 on Tuesday morning. To secure the 1,237 delegate majority required to win the nomination outright and avoid a chaotic contested convention in Cleveland this summer, Trump now needs to win only about 46% of the remaining delegates up for grabs, down from 53% before Tuesday night.
To date, Trump has won 48% of the delegates allocated since the kickoff Iowa caucuses on Feb. 1.
Should Trump follow his expectations-busting performance on Tuesday with a victory over Cruz in the May 3 Indiana primary — where 57 delegates are at stake — the odds of a convention coup will grow even longer.
Moreover, Trump's outperformance of his poll numbers on Tuesday and in last week's New York primary suggests that, like many a frontrunner before him, the billionaire will amass greater popular support as his momentum builds.
Looking beyond the primary: As far as Trump is concerned, the nomination is effectively his.
The frontrunner largely looked past Cruz and Kasich on Tuesday night, calling on the pair to exit the race in the face of forbidding delegate math and ridiculing their unraveling strategic pact on how to thwart Trump in upcoming primaries but focusing much of the evening on attacking Hillary Clinton, the likely Democratic nominee.
"I call her Crooked Hillary. She will be a horrible president," Trump said.
"I will do far more for women than Hillary Clinton will ever do, including protecting our country, because she will not be good with the military. She will not be good with protecting our country and she has had her shot and she also raised her hand [in support of war] when it came to Iraq," he added.
Indicating that he'll seek to stoke Democratic division, Trump approvingly cited Bernie Sanders' attacks on Clinton's qualifications to be president, saying, "there is a great level of hatred right there, but he has been telling the truth."
In the face of many polls that indicate he'll face an uphill battle against Clinton in the fall, Trump is fond of reassuring supporters that he hasn't yet "started on" the former secretary of state, and that like his intraparty rivals, Clinton will prove unable to withstand his unsparing attacks. We'll soon get an idea of exactly what he's had up his sleeve.