Donald Trump Gets a Major Eye Roll From New Jersey First Lady Mary Pat Christie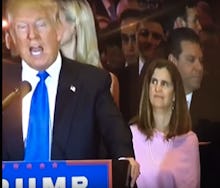 The Christies should probably stop coming to Donald Trump victory rallies. After the billionaire GOP frontrunner cleaned up five Northeast contests Tuesday night, the stage was stolen — somewhat — by New Jersey's first lady Mary Pat Christie, who was filmed rolling her eyes as Trump spoke about Clinton and "the woman's card."
Read more: Donald Trump Just Sucker-Punched the #NeverTrump Movement
A Vine video tweeted by the Daily Beast's Gideon Resnick appears to show the moment. "This is brutal," wrote Resnick.
Trump had been asked a question by Vox correspondent Elizabeth Plank about his accusation that Hillary Clinton had played the "woman's card" and the real estate magnate happily elaborated. 
"The only thing she's got going is the woman's card, and the beautiful thing is women don't like her," he responded. The comment earned a swift rebuke from Clinton on Twitter.
It's not the first time a Christie has taken the spotlight from a triumphant Trump. After a similar blowout performance on Super Tuesday, New Jersey Gov. Chris Christie stood awkwardly behind Trump as the candidate boasted. 
The scene was compared to a hostage situation and online mockery was so brutal that Christie was forced to address the issue in a subsequent press conference: "No, I wasn't being held hostage," said the exasperated governor. 
Chris Christie was himself a candidate for president before being dispatched by Trump earlier this year. 
Editor's note: Elizabeth Plank left Mic in February.