D'Angelo and Maya Rudolph Give a Heartfelt Prince Tribute on 'The Tonight Show'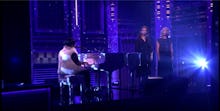 While there have been several noteworthy tributes to Prince following his death Thursday, the emotional lyrical eulogy from cover band Princess — comprised of Maya Rudolph and Gretchen Lieberum — and D'Angelo on The Tonight Show Starring Jimmy Fallon had a particular resonance. In a rendition of the Purple One's "Sometimes It Snows in April" against a suitably purple backdrop, D'Angelo played the piano with Rudolph and Lieberum joining on backup vocals. 
Aside from the understandably emotional performance, D'Angelo also made some slight lyric changes in honor of the late artist, with the remixed verse: "I often dream of heaven and I know that Prince is there/ Maybe he's found the answer to all the April snow." 
Following the performance, Questlove thanked The Tonight Show for providing another opportunity to try and cope with the artists death, after sharing Prince stories with Fallon on the talk show on Monday. 
You can check out the full, heartfelt tribute from Tuesday's Tonight Show below: 
Read more: 13 Rare Quotes From Prince Allow the Legend to Tell His Story in Own Words